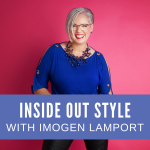 In This Episode
0.08 How do I create more interest and excitement in my outfits?
3.23 My biggest style challenge is dressing for my apple shape–specifically for tops that don't emphasize my muffin top and yet don't look like maternity tops. Additionally, I am petite with narrow shoulders and shorter arms. Regular sizing rarely works for me, and petites are getting harder to find in the US. Even petite tops seem to be getting longer and longer, and I'm not a fan of tunics! I would consider myself a "classic" dresser and am print phobic, except perhaps for stripes.
Petite Dressing Style
8.46 I find I'm always wearing the same items – how can I get out of my style rut?
If You'd Like to Define Your Style and Discover Your Colours
If you're sick of wasting money on clothes that don't work and you know there is a better way, then join my 7 Steps to Style program and get the right information for you and your style.
Subscribe to my Podcast
You can now get these videos as podcasts subscribe and never miss an episode
Send me Your Questions
Please email me your questions to be included in my Q&A Lucky Dip!