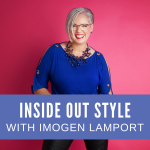 In This Episode
0.08 What challenges me is how to move from my existing wardrobe to a more curated style – especially with a restricted budget.
4.03 I have a really nice light beige dress pants and jacket that I really like to wear in summer. As an "enigmatic", I tend to wear it with a darker top.
I was thinking it would be nice to get some more wear out of it before winter sets in. Would you have any ideas how to wear it? or should I just forget about it until next summer?
5.05 I love my taste in fashion and I have fun with it too. But, getting dressed for work in the morning is a real pain. I love looking put together and I have very nice clothes but lack the desire to take the time and effort to do so. Since my job is casual I mostly opt for activewear (cute activewear though). I wish for the motivation to wear those faves in my closet