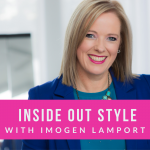 In This episode
If you have a tummy you want to camouflage, what are the best jeans button colour be? Gold or silver or something that blends with the denim?
Can a high colour contrast person who prefers neutrals balance their desire for a neutral outfit while still looking their best?
I'm a high value contrast and low colour contrast, how can I wear a top in a bright medium value colour?
Jeans Buttons and Tummy Camouflage
High Colour Contrast Wearing Neutrals
How to Wear Your High Colour Contrast When Your Personality Prefers to Blend-In
How to Find Your Ultimate Colour Contrast – Your Three Step Process
High Value Contrast but Low Colour Contrast Wearing a Medium Value Colour
How to Wear a Multi-Coloured Item When You're Not High Colour Contrast
Please email me your colour and style questions to answer in upcoming videos!
Subscribe to my Podcast
You can now get these videos as podcasts subscribe and never miss an episode