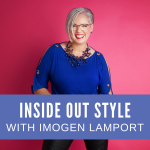 In This Episode
0.08 I am 5'9', medium brown hair, bright blue eyes, and rosy skin. I've assessed myself as medium value contrast and as a neutral plus two colors. I'm more comfortable in classic clothes and I'm not comfortable with scarves and necklaces when I'm busy during the day. My question is about the Light Bright coloring. Do I always need to wear a print blouse to look my best? I have some pretty jackets and purses with prints. If I chose to wear them, is the best thing to do to wear a blouse with a white and color print that would coordinate with the print on the jacket or purse?
3.28 How do I pull patterns into outfits? Most of my clothes are solids, worn with neutrals. (But I still get compliments on "dressing stylish,")
6.20 How do I look smart in clothing when I'm plus size?
Working with Your Contrast
What's Your Ideal Value and How it Creates Balance in Outfits
Mixing Prints
Plus Size
If You'd Like to Define Your Style and Discover Your Colours
If you're sick of wasting money on clothes that don't work and you know there is a better way, then join my 7 Steps to Style program and get the right information for you and your style.
Subscribe to my Podcast
You can now get these videos as podcasts subscribe and never miss an episode
Send me Your Questions
Please email me your questions to be included in my Q&A Lucky Dip!