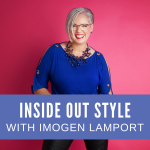 In This Episode
0.10 You have given so much great advice and shopping with a plan and a mission has really simplified my trips and saves me so much time.
One question as Spring is here and as a Warm Toned skin what colors do you suggest I look for. I love my Fall/Winter cause the colors are so perfect. Aqua and Navy are my Spring Go To.
2.01 I love Kimono style tops. Is there a good length of sleeve for this to work on a A shape?
2.30 I often choose great outfits which don`t look good on me. How can I make better decisions?
Shopping
Shopping Strategies – Are You Better Shopping Alone or With Someone?
Length
Stylish Outfit Ideas
If You'd Like to Define Your Style and Discover Your Colours
If you're sick of wasting money on clothes that don't work and you know there is a better way, then join my 7 Steps to Style program and get the right information for you and your style.
Subscribe to my Podcast
You can now get these videos as podcasts subscribe and never miss an episode
Send me Your Questions
Please email me your questions to be included in my Q&A Lucky Dip!