I was wondering if you might address correct hem lengths in one of your future blogs. I am on the short side (5′ 4″) so almost all of my clothing needs to be shorted but I am never quite sure what the correct length is. For example, are pencil skirts and dresses hemmed at the same length as those with some drape? What about coats, especially those that are worn longer or shorter than knee length? Does body shape influence the length of your clothing?
The closer a garment falls to your body, then it should be hemmed more 'exactly' at the point you want it to stop at. So straight skirts and dresses should be hemmed at the narrowest point around knee length that is flattering for your body.
The wider a garment – say if it is A-line or flared, with more drape, need to be hemmed slightly shorter as it will appear longer as there is more volume.
When you are hemming a garment, stand up straight, have a friend/tailor pin it, don't measure from the waist down, instead stand up in front of a mirror and hem it at the point where it appears to sit at your narrowest point, often if you actually hem it at the narrowest point, particularly for a more voluminous garment, it will appear longer and that it's hitting at the widest part of the calf.
Also, if you have a sway back or more luscious bottom you may have to hem the front higher than the back (when the garment is laid out flat) as the way your body curves changes the apparent hem height front and back.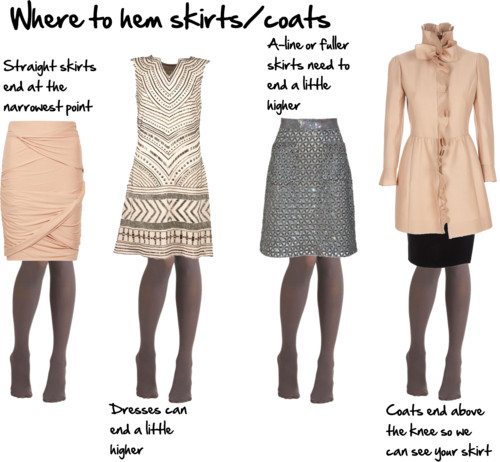 I find that I wear my dresses slightly shorter than my skirts, having the same colour from shoulder means that the longer block of fabric allows me to have a slightly shorter skirt, whilst with a skirt, if I don't want to look square or boxy, it needs to be slightly longer.
With coats, I'd recommend that they either finish just above the knee, unless they are long, when they finish down close to the ankle. The long coat is quite dramatic and harder for a petite woman to pull off!