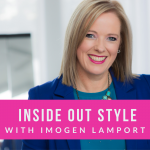 In This Episode
How would you define a coloured neutral? Can a Low Colour Contrast person have a coloured neutral? Is it determined by colour contrast, value contrast or palette? Does everyone have them?
X shape with long torso and short legs – skirt lengths to look proportionally good!
If cools can wear all the blues and violets, do warms get colours cools can't wear?
Coloured Neutrals
Skirt Lengths
Warm and Cool Colours
5 Colour Concept Essentials You Need to Understand To Create Harmonious Outfits
Subscribe to my Podcast
You can now get these videos as podcasts subscribe and never miss an episode