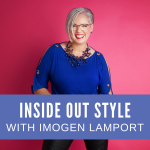 In This Episode
0.08 I've been following the discussion in 7 Steps on different types of feminine dressing and I really identify with the ethereal kind, with it's long lines and floaty, gossamer-like fabrics. For example, I feel most "me" in a long almost-translucent chiffon skirt and sandals, or a maxi slip dress with drape. How would you suggest adapting this style to a business casual work setting? (Thinking ahead for post-Covid Casual times.)
I haven't seen people wearing maxi dresses or long floaty skirts to work. I do see a kind of dramatic-feminine style, with dresses in stiffer fabrics, large belts and jewelry, and wrap tops in dark colors that seem too heavy for ethereal. Is the workplace more suited to the classic/dramatic types of feminine as opposed to the ethereal? What elements of "ethereal" might be possible to use?
5.44 My dilemma is, I've been told I'm a spring and a summer. How can I be both? My coloring is much like yours, light complexion, blond hair, my heritage is European.
7.10 It is trendy right now (at least in US stores) to wear high waisted-pants/jeans and shorter tops. I've read conflicting advice as to which body shapes and proportions this flatters (particularly for H and O shapes- whether the high waist helps hold a tummy in). Who should embrace or skip this trend?