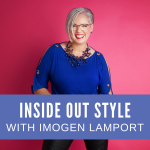 In This Episode
0.33 How to find things that are comfortable both in how I feel about them and how they actually feel on me, but also dressy. I like to look classy and stylish but often find it difficult to get things that are.
3.36 – how do you style a curved hem top with a blazer or jacket? Does the jacket hem need to be curved as well?
5.12 I'm an older woman who lives in the tropics and has an apple shape and I'm finding it hard to find clothes.
Comfortable and Stylish Outfit
What are Mental and Emotional Comfort with Regards to Personal Style?
How to Put Together a Practical, Comfortable and Elegantly Stylish Wardrobe and Outfits
Principle of Coordination – Shapes and Lines
What to Wear in Hot Climate
6 Things to Look for When Choosing Dresses and Skirts for Relaxed and Casual Environments
If You'd Like to Define Your Style and Discover Your Colours
If you're sick of wasting money on clothes that don't work and you know there is a better way, then join my 7 Steps to Style program and get the right information for you and your style.
Subscribe to my Podcast
You can now get these videos as podcasts subscribe and never miss an episode
Send me Your Questions
Please email me your questions to be included in my Q&A Lucky Dip!