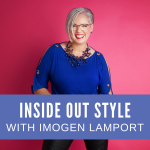 In This Episode
0.08 I struggle to find clothes that make me feel confident and stylish – I am natural romantic with classic influences and work in a corporate environment and wear suits all the time. My struggle is how to be feminine but still professional at work, and then comfortable and stylish at home?
3.34 How do you figure out if you're warm or cool? I've been told I'm a summer and a warm autumn?
10.09 Why do people think white isn't good on them? If you make people wear white when draping them, doesn't it mean it's good for everyone?
How to Create a Stylish Outfit
How to Create Dramatic Outfits When Your Most Flattering Colours are Soft and Smoky
Understanding Your Colour Analysis
9 Ways Knowing Your Best Colours Will Change Your Life as Well as Your Wardrobe
5 Colour Concept Essentials You Need to Understand To Create Harmonious Outfits
How Often Should You Re-Evaluate Your Style Recipe and Colour Palette
Wearing Your White
If You'd Like to Define Your Style and Discover Your Colours
If you're sick of wasting money on clothes that don't work and you know there is a better way, then join my 7 Steps to Style program and get the right information for you and your style.
Subscribe to my Podcast
You can now get these videos as podcasts subscribe and never miss an episode
Send me Your Questions
Please email me your questions to be included in my Q&A Lucky Dip!