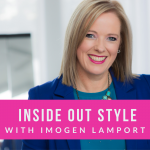 In This Episode
0.08 A shape and find it hard to balance my hips and hide my tummy – any tips?
4.34 Finding clothes for the over 70s for a retired casual lifestyle when you're a large regular size or small plus size
9.47 I can't seem to nail down fashion guidelines for my shape because I feel I don't fit into any one category
What to Dress when You Have An Shape Body
Retired Casual Lifestyle
What to Wear when You Can't Figure Out Your Body Shape
3 Essentials to Consider When Your Body Doesn't Fit One of the Standard Body Shapes
If You'd Like to Define Your Style and Discover Your Colours
If you're sick of wasting money on clothes that don't work and you know there is a better way, then join my 7 Steps to Style program and get the right information for you and your style.
Subscribe to my Podcast
You can now get these videos as podcasts subscribe and never miss an episode
Send me Your Questions
Please email me your questions to be included in my Q&A Lucky Dip!