Kelly, from I'll Be Back requested some help working out how to dress her A shaped body, so I've put this polyvore together for her, and hppefully it will help some others too.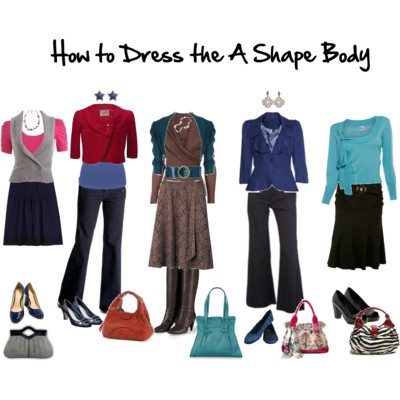 Kelly works as a Legal Assistant and so wants to look approachable yet professional at work, and at the weekends wants to look friendly and outgoing. She wants to have fun with accessories and loves purses. She is also keen to avoid black as it is ageing on her fair colouring.
The colours are friendly and approachable (especially avoiding black which is seen as intimidating). The clothes aren't overly structured so are also seen as friendly.
The structure in some of these garments gives a more professional appearance, but it's still fun with feminine detail and accessories.
A shapes need to keep detail to the top half of their body as much as possible, to draw attention away from hips and thighs. So you will notice that I've used darker, neutral bottoms and paired them with lighter or brighter tops.
Tops also end around the hip bone so as not to draw unflattering horiztonals too close to the widest point of the body.
I've also used interest and detail such as a frilled collar jacket with puffed sleeves to balance the lower body.
3/4 sleeves help to take attention higher up the body too, and you will notice there is no detail at the wrists so as not to draw attention to the hips and thighs.
The trousers and skirts also have a little flare to balance the thighs, avoid tapered trousers if you are this shape.
If you also have a smaller bust, as is common with the A shape (though not always the case), then look for ruffle or ruching detail at the bustline to create extra volume.
If you wear pattern on your bottom half, remember to wear a lighter or bright colour on your top half to draw attention up to your face.
Look for fabrics that have enough weight so they don't cling to your thighs, but have enough drape so the skim past and sit close to the body, rather than stiffly away from the body.