I always find that I want to make shopping a pleasant experience. So with a little knowledge you can be prepared to assess a garment before you try it to see if it has a chance of flattering your figure. If you have an A (pear) shaped body, which many women do, it's that lovely female shape, there are a few garment details you need to be aware of that you will find won't flatter your gorgeous figure. There is no point in wasting your money on clothing with these features as you will unlikely ever be really happy with how you look in them.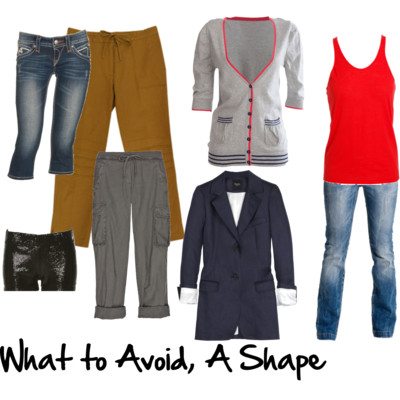 Beware of whiskers on jeans – that fading creates horizontal lines and detail on your crotch, and who wants your crotch to be the focus of others gaze?
Cargo pants pockets on the hips and patch pockets on jeans, again, more unnecessary horiztonal lines.
Hotpants – best left to Kylie Minogue.
Tops that end at your thighs, you think if you pull down your top you're covering and hiding your bum? Actually you're drawing attention to your thighs.
Cardigans with pockets down low.
Horizontal banding on the bottom of cardigans or jumpers that end on your thighs
Jackets that end at the thigh, keep jackets ending at the high hip, or just above the knee, not inbetween.
If you pick up a garment and it has one of these details, just don't even bother taking it into the changeroom, it's a waste of your precious time and effort.
What other garment details do you avoid?