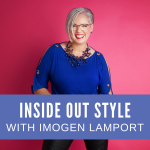 In This Episode
0.09 What to colours to wear in Autumn/Fall when you have cool colours and everything in stores is those autumnal olives, yellow and orange?
5.20 I'm an X shape and struggling with skinny jeans (as I can't seem to find any other option) How can I make them work?
8.18 Help me find my waist as I'm very straight up and down
What to wear during Autumn/Winter
5 Best Fashion Trends to Update Your Wardrobe this Autumn and Winter
X Shape body Explained
Defining the waist
body-shape-the-waist.html
https://insideoutstyleblog.com/2015/10/understanding-https://insideoutstyleblog.com/2009/06/how-to-tell-if-you-have-a-short-balanced-or-long-waist.html
Short Legs, Long Rise, How to Define Your Waist When Wearing Jeans
If You'd Like to Define Your Style and Discover Your Colours
If you're sick of wasting money on clothes that don't work and you know there is a better way, then join my 7 Steps to Style program and get the right information for you and your style.
Subscribe to my Podcast
You can now get these videos as podcasts subscribe and never miss an episode
Send me Your Questions
Please email me your questions to be included in my Q&A Lucky Dip!