Have you ever struggled to put together an outfit that truly represents your personality and style? If so, you're not alone. Many people find it challenging to combine clothes harmoniously to create a cohesive look. Let's explore how to create a harmonious and personal style recipe that reflects your personality and style.
Define Your Style Recipe
The first step in creating a personal style is to define your style recipe. A style recipe is a list of two to six words that describe your personality and how you want to be perceived. For example, if you want to be seen as professional and put-together, your style recipe might include words like polished, sophisticated, and elegant. If you want to be seen as creative and quirky, you might choose words like whimsical, eclectic, and colourful.
Your style recipe should be a reminder of what you want to be reminded of, and it should help guide your clothing choices. Keep in mind that your style recipe should be unique to you and should reflect your individual style. It's also going to change over time, so don't get stuck thinking you have to pick a few words for a style that will last forever. You can go through this process each season and assess whether your current style recipe is still you, or if you want to make changes to it.
When choosing words for your style recipe, it's important to focus on aspirational terms that represent the person you want to become. If you tend to buy clothes that are too constrictive and uncomfortable, you might want to add the word "comfortable" to your style recipe. This will remind you to choose clothing that makes you feel physically and emotionally comfortable.
On the other hand, if you tend to wear stretchy clothing and activewear all the time, you might not need to include "comfortable" in your style recipe. Instead, you might focus on words like "sophisticated" or "polished" to help you transition to a more dressy style, as uncomfortable is something you will never ever wear, but you may need to be reminded that you want to level up your style.
Using Your Style Recipe
Once you've created your style recipe, you can use it to guide your fashion choices. Whenever you're shopping for clothes or putting together an outfit, ask yourself whether each item fits with your style recipe. Does this outfit represent my personality? Does it include the words from my style recipe?
If the answer is no, it's probably best to skip that item and look for something that does fit with your style recipe. By using your style recipe as a guide, you'll be able to create a wardrobe that truly reflects your personality and style. There is no point in buying clothes that don't fit your style recipe as you'll just be dissatisfied with them and you'll have wasted money.
Consider Your Personality Traits
When creating your style recipe, consider your personality traits. Think about who you are and how you want to be perceived. Are you more creative or quirky? Do you want to be seen as approachable or more serious? Consider your strengths and weaknesses and how you can use them to your advantage. There is no right or wrong answer here – your style recipe should be full of things that you want to be reminded of and that represent your true self.
For example, if you are naturally outgoing and love to make people laugh, consider adding some fun and playful elements to your style. If you are more reserved, you might want to focus on classic and timeless pieces that exude elegance and sophistication.
Understanding Harmony
When it comes to combining clothes harmoniously, it's important to understand the principles of design. There are several principles of design to consider, including colour, pattern, texture, and shape.
Colour
Another aspect of creating a harmonious outfit is understanding colour theory and how to coordinate colours. Colours can evoke certain moods and emotions, and can even affect our perceptions of a person's personality. It's important to choose colours that complement each other and that also complement your skin tone and hair colour.
When it comes to coordinating colours, there are a few tried-and-true methods that can help. One is the monochromatic colour scheme, which involves wearing different shades of the same colour. Another is the complementary colour scheme, which involves pairing colours that are opposite each other on the colour wheel, such as blue and orange or red and green.
When choosing clothing items, think about how they will work together in terms of colour, pattern, texture, and shape. Consider how different pieces complement each other and how they create a cohesive look.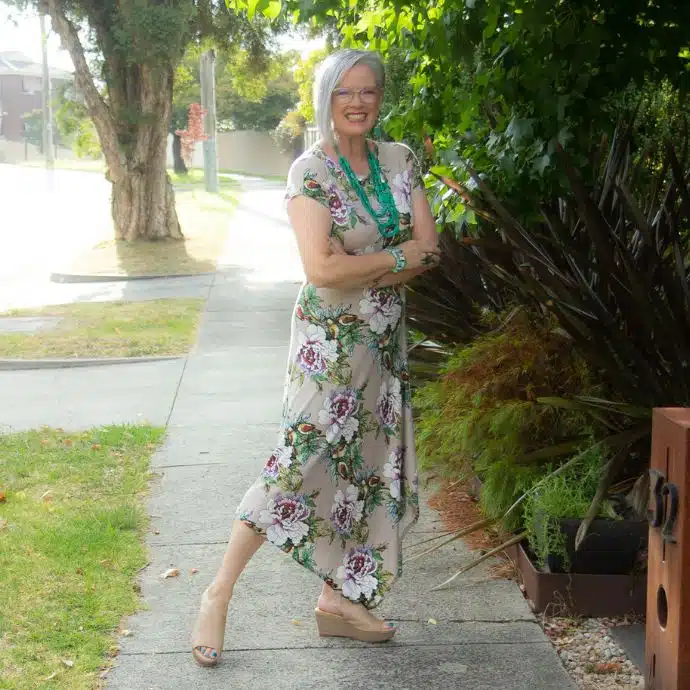 Add accessories in either colours that complement your outfit, or take colours from within an outfit – like I'm repeating the green in the floral pattern in my necklace and bracelet, and then the mushroom in my shoes that is the background colour of the dress (well close enough to it).
Patterns and Texture
In addition to colour, patterns and textures can also play a role in creating a harmonious outfit. Mixing and matching different patterns and textures can add interest and dimension to an outfit. However, it's important to balance the different elements so that the overall look is cohesive.
You can mix and match different patterns, such as stripes and polka dots, to create a unique and eye-catching look. However, it's important to choose patterns that complement each other rather than clash. A good rule of thumb is to choose patterns that are different in scale – for example, pairing a small polka dot with a larger stripe.
One approach is to choose one statement piece, such as a patterned skirt or textured blazer, and build the rest of the outfit around it. You can also experiment with layering different textures, such as a silky blouse with a wool cardigan, or pairing different patterns, such as stripes with floral prints.
Related Shapes and Levels of Refinement
Choosing accessories that relate to the shapes of elements in your garments, from prints and patterns to necklines, helps you choose jewellery and accessories that will combine harmoniously.
Think about the level of refinement, and selecting accessories that are the same level, or if you want to dress up a garment, that are a little smarter, or if you want to dress down a smart garment, that are a touch more relaxed.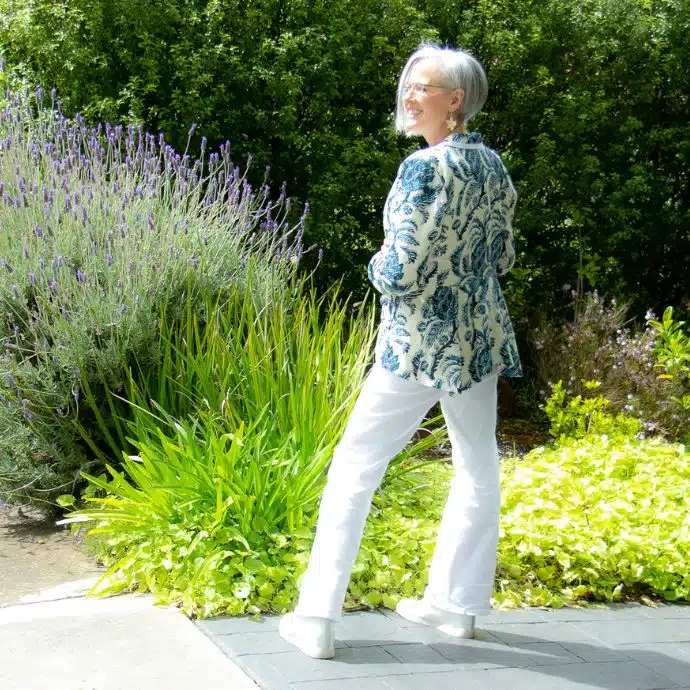 Here I've paired white sneakers with my jeans and hero jacket outfit. The sneakers make this outfit more casual, even though the jacket is more formal.
Pay attention to fit and proportion
Fit and proportion are key to creating a polished and put-together look. Clothes that fit well and flatter your body shape will make you feel confident and comfortable.
When trying on clothes, pay attention to how they fit in the shoulders, bust, waist, and hips. Look for pieces that accentuate your best features and minimize any areas you're not as comfortable with. Proportion is also important, so consider the balance of your outfit and how different pieces work together.
Find Inspiration
Finding inspiration is an essential part of creating a personal style that is harmonious and true to you. Look for inspiration in magazines, on Pinterest, on social media, and in real life. Pay attention to the clothing and accessories that catch your eye and consider how you can incorporate similar elements into your own style.
Keep a style journal where you can jot down notes and ideas. Take photos of outfits you love and consider how you can adapt them to fit your personal style. Remember, inspiration is everywhere, and there is no right or wrong way to create a personal style that is true to you.
Experiment and Have Fun
Finally, don't be afraid to experiment and have fun when creating your personal style. Try out different colour combinations, patterns, and textures. Mix and match different pieces to create unique and interesting outfits.
Experiment with different accessories, such as statement jewellery, scarves, hats, and belts. Consider the colour and texture of the accessories, and how they complement the rest of the outfit. However, be careful not to overdo it – too many accessories can overwhelm an outfit and detract from the overall look. Ultimately, creating a harmonious outfit is about expressing your personal style and having fun with fashion. Trust your instincts and don't be afraid to take risks and try new things.
Remember, there are no hard and fast rules when it comes to style, and what works for one person may not work for another. Creating a personal style that is both harmonious and true to you requires some thought and effort, but it's well worth it in the end. The most important thing is to feel confident and comfortable in what you're wearing and to let your personality shine through.

Get Your Style Education
If you really want to get your style sorted and know what suits you, and get the inside knowledge on how your personality really influences your style, then join my 7 Steps to Style program, which gives you your complete education in colour and style, so that you know why some clothes work and others don't and helps you make the best purchasing decisions. It's a great investment that will repay you multiple times in just the next year or so!
Further Reading