Reader Question: I'm an older woman with an apple shape who lives in a hot climate with a relaxed clothing dressing style. and I'm not sure where to shop or what to buy
It's not impossible to buy plus-size clothes all over the world. Thanks to the internet, you are longer limited to stores in your location that stock plus-size clothing, but it's not always easy and the options are much more limited than the options you get in "standard" sizing. Designers and retailers are starting to recognize the opportunity that plus-size women represent but change is still slow.
No matter your shape (not all plus-women have an O shape body), there are a few factors you want to think about when shopping for your summer wardrobe.
Watch the Video
Foundations
For many of us, it doesn't matter how fabulous we look, if we are wearing uncomfortable undergarments, it can make us uneasy. So, invest in the right undergarments for your size, shape and climate.
It's important to have underwear made from breathable fabrics, such as bamboo and cotton that allow the skin to breathe and don't trap heat.
Make sure your underwear doesn't dig into your flesh and create additional lines and lumps under your clothing, as you won't be wearing a stiffer or heavier layer to hide it.
There are also design elements in underwear to keep you cool – look for mesh panelling along the back and sides. For maximum comfort, look for tag-free waistbands, flat stitching, and seamless backs or sides.
For more tips on finding the best foundations garments, read How to Choose Flattering Underwear
Fabric
The first step is finding pieces designed to keep you cool — to prevent sweating in the first place — and from there, looking for ways to minimize the appearance of sweat you can't avoid.
Wear fabrics built for the heat such as cotton, bamboo, linen, and viscose. Cotton or linen are the best choices when it comes to everyday wear in hot weather as they're both light-weight and breathable. Select lightweight cotton fabrics such as cotton lawn fabric, batiste, muslin, voile, or poplin. Linen is made for the heat as the light weave allows for maximum breathability and these days you can bypass some of the crumpled look of linen with a linen knit top rather than only woven linens. Viscose and Bambook are made from cellulose fibres and can be lightweight and cool options too.
Moisture-wicking qualities have been in sports clothing for a while. Breathable and moisture-wicking will key to keeping cool and staying comfortable. Moisture-wicking clothing are made of materials such as polyester, nylon, bamboo, and wool work to whisk the wet away. These moisture-wicking fabrics pull moisture away from the skin and out to the fabric's exterior to evaporate, helping the fabric dries faster and regulating your body temperature.
Moisture-wicking fabrics are also generally light, packable, and don't crease—making them a perfect material for humid climates. Performance tees are nice-looking enough to wear casually and are good at hiding sweat because they're designed for more active pursuits.
Observant readers will note that I've recommended both natural and synthetic fabrics. Cotton and linen will both absorb moisture so for these fabrics it is really important to have a light weave to get maximum airflow and allow the moisture to evaporate. Moisture-wicking fabrics tend to be synthetic fabrics that do two things – move moisture to the fabric's outer surface and dry rapidly so that your sweat doesn't saturate the fabric. Ultimately, the best fabric is the one that works for you and your body's response to hot and humid weather.
Fit and Shape
Knowing which shapes and styles of clothing you're looking for is your first step in building a great wardrobe that makes you feel good as well as look good. If you're unsure of your shape – do my body shape calculator quiz here and download your free body-shape bible which gives you your body basics of styles and shapes. If you're like this reader and know you have an O shape (apple) body, then you can find out more about dressing it here.
Loose fitting, easy tailoring that allows for air circulations is the best choice when humid weather, especially regarding your pants or bottoms of choice. The loose clothing allows air to pass along the skin and exit, speeding evaporation and carrying off excess heat.
Avoid clothes that are too tight, especially around your midsection. Clothing that clings to your body will soak up sweat and then stay close to your skin, which will add to your discomfort.
To limit this, find clothing that provides physical separation from your body, even just a slight one. Look for shirts that have darting or shape to them so they skim your body.
Sundresses are great to wear when you need to survive a humid day. Regarding the length, your best bet will be something that falls at the knee so your legs will be comfortable, have room to breathe, and won't be trapped underneath the fabric.
Feet
Feet tend to get sweaty so you'll want to have shoes that can breathe. If possible, try to wear sandals or go barefoot to help your feet air out. Look for a sandal where the footbed provides arch support for maximum all day comfort. Espadrilles are one of the lightest shoes you can have without resorting to a sandal. For closed-toe shoes, look for breathable fabrics, like mesh, suede or canvas.
When you wear socks, choose athletic options as they soak up the most sweat. There is no shame in changing into fresh socks at lunchtime if it helps keep you comfortable.
What to Look For When Shopping (and some Shoppable Boards)
In your tops, you're looking to skim over your tummy, in lightweight fabrics that breath (as mentioned above). Click on the images here and watch short videos that accompany each board as I talk about each of these selections and why I've chosen them.
You can create a column of colour to elongate and slim, by selecting a similar coloured top and bottom or just wear colours that flatter your colouring as they always make you look your best and don't create a body focus. Remember the rule of horizontal lines – and that you don't want to end a hem at your widest points!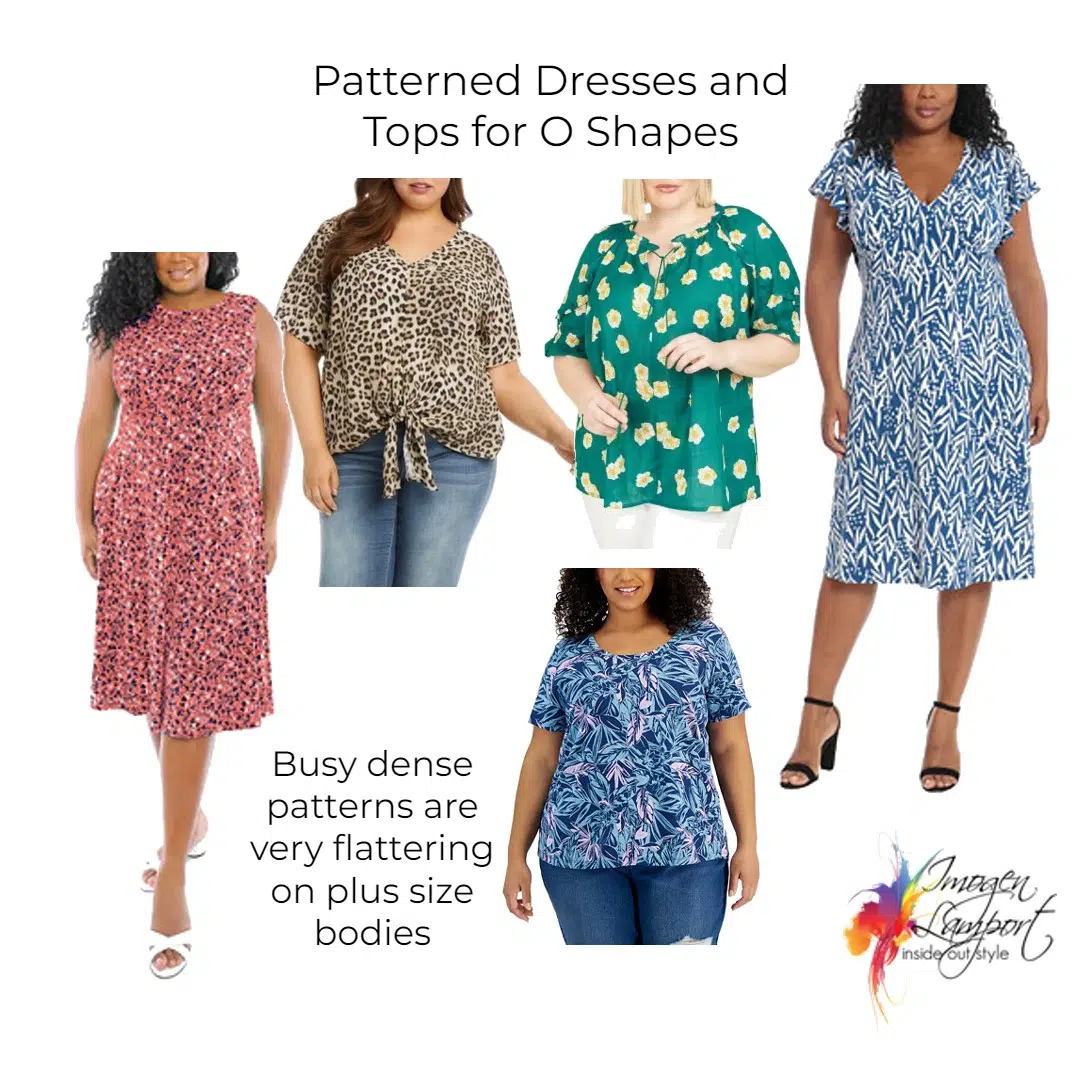 Click here to shop these boards and to watch a video to learn why I recommend these garments for an O shape
Where to buy
After clicking on the images above where you can find the garments I've selected on these boards. You can begin by searching Pinterest and doing Google Image searches. I have some tips on narrowing down your search options in my post, How to Find Clothes that Fit When You are Petite and Plus Size
Keep in mind not every sundress will be ideal for someone who is plus-sized or someone who lives in the tropics. When buying online, I look at the photos quite closely and I look at the measurements so I can get an understanding of the size. I also read all the customer reviews and check the returns policy. An ideal deal is when the store gives you a refund or exchange it for whatever reason you aren't satisfied with the item. Get my tips here on how to have a more successful online shopping experience (no matter your size or shape).
Good places to include in your search would include department stores; outdoor clothing retailers and activewear clothing retailers. When you are working within a budget, consider looking for garments on resale sites; consignment stores and discount department stores like TJ Maxx; Marshalls and Nordstrom rack where you can source great quality clothes at very reasonable prices.
You will often find there is a greater range of options in plus size clothing online than there is in stores – so don't assume just because you've walked around your local department store's plus section and come up empty-handed that there aren't more options available – check out their website and see what else they have online that they don't offer in store.
If you've got any suggestions for retailers with good plus size ranges, please add them in the comments section.
Get Your Style Education
If you want to stop making mistakes and buying clothes that you don't end up wearing. And you want a versatile, mix and match wardrobe, then getting a style education is the right thing to do as not only will you discover which colours suit you best, so that you can make more outfits from less garments (as they work together easily), you'll also learn how your personality influences your style choices, along with all the body harmony aspects of style – body shape, body proportions and body variations – that go into the body equation. Along with this you'll also discover your style values and how you can use these to make choices that are in alignment with your personal values. There is so much you need to consider and you are welcome to go through all the posts here on Inside Out Style where you'll learn so much about style, but if you want a faster more direct path, then join my 7 Steps to Style program where you'll get my professional opinion on your shape and colouring plus lots of specific advice just for you (and an amazing community of women all on the same style journey with brilliant ideas and suggestions, plus regular outfit feedback from trained-by-me personal stylists), then I'd love to have you in the program and be your style guide.
Further Reading
3 Strategies to Have a More Successful Clothes Shopping Experience
7 Essential Tips For Narrowing Down Your Options When Shopping for Clothes