How do I narrow down what works for me? There are so many options in stores and I get overwhelmed by all the choices.
My mother says a similar thing to me, "I won't shop in department stores because I'm just overwhelmed, there's just too much out there." The world is your oyster these days – with the options in online shopping being so plentiful, not only can you scour your local stores, you have options across the globe. Expecting to find exactly what you want instantly or even to find lots of things in one shopping trip – is unlikely.
So How Do You Narrow Down Your Options When Shopping?
Decision fatigue is real. It's impossible to say exactly how many decisions you make each day, but by one estimate, that number is 35,000. You're making decisions all the time — what to wear; where to park the car at the shops; what to cook for dinner…. the list goes on and on and on!
If you are shopping surrounded by choice, decision fatigue can set in very quickly. You don't want to walk into the change room with all the options because after a few items, you are not even sure what we're looking at especially if you haven't chosen the best things to take into the change room. At this point, it can be tempting to walk out with whatever or get overwhelmed and abandon all the items.
Typically, people take a lot of clothing home that doesn't work then end up with a wardrobe full of clothes nothing to wear or they have an empty wardrobe because they just get overwhelmed with the stores and either avoid shopping or buy nothing all the time.
In learning how to avoid decision fatigue while shopping, I found the following strategies work the best:
1. Know Yourself
I find that the more I know about my style and what suits me, the colours, the shapes, the contrast, the patterns, the scale, the fabrics and textures, then the easier it is to actually start shopping and finding those key items. Knowing all these details make it so much easier to shop for the pieces that I'll wear, will go with what I already own, and work for my lifestyle.
Discovering these style fundamentals, through reading my an blog posts or joining my 7 Steps to Style program, will help you narrow down the massive volume of options to what works for you, allowing you to make decisions easier.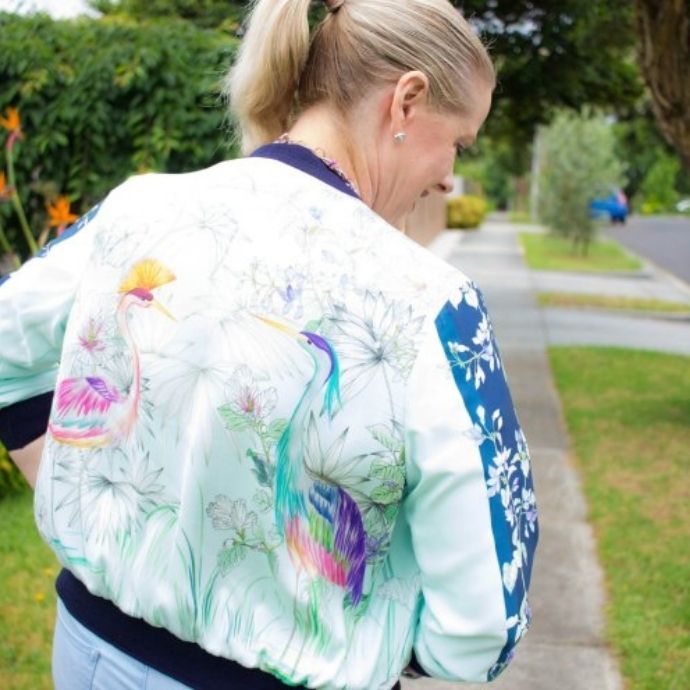 For example, because I know my colours and what suits, plus the colours I own so I can mix and match easily in my wardrobe so create many outfits with fewer pieces, plus I understand what flatters my figure and know what suits my personality when I saw this jacket in store, I knew it was for me. Great colours, the right style and shape and just loved the pattern! It was NOT a hard decision at all!
2. Do Online Research
Doing some research before you go shopping is also really great. You can go online and actually find them items, knowing what is likely to suit you.
I'm not suggesting you buy all your clothes in large department stores or from massive fashion aggregators who stock thousands of items, of which a very small proportion will be perfect for you. If you start your search at a large department store on online fashion aggregator, you might find several brands have an aesthetic that you are drawn to that helps you narrow down your search options.
Then go on to those retailer's websites and have a look at what they've got and see if there's anything there you want to specifically want to look at. They may have a look book or a collection of photographs showing various ways their clothing can be styled. Another option is to check out the new season offerings from a brand whose clothes you already own and wear often.
Often online, I can add a filter to my search and narrow down my options to blouses. I can either say there's something there for me or there's nothing there for me. I don't even have to walk into the store if I feel like there's nothing there for me at the moment.
3. Find Your Best Colours
The first place to start once you're in the store is with a colour palette. Colour palette is the easiest way because what it does is it reduces the available options very quickly so that you don't get overwhelmed.
When scanning a store, start with colour first. If the colour isn't flattering, then it doesn't matter how otherwise lovely the garment it's never going to make you look as great as you could.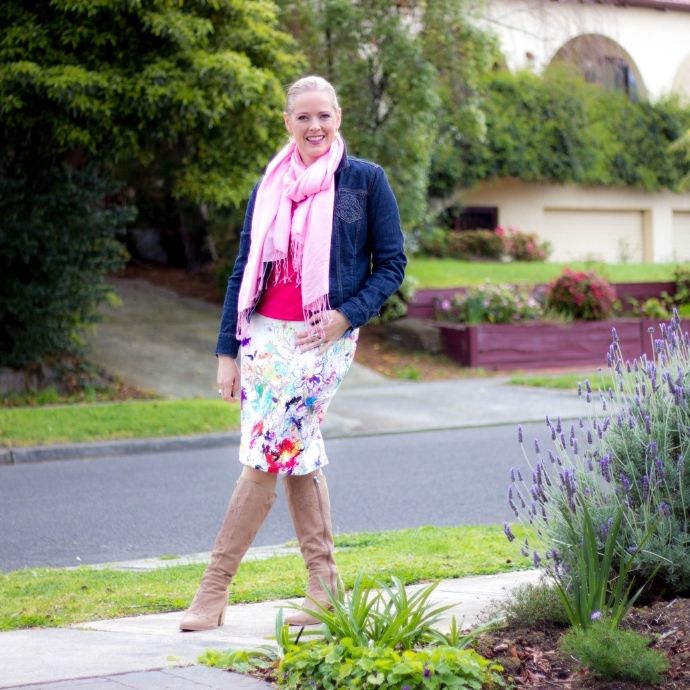 If you aren't sure the best colours for you, start by figuring out if you have a warm or cool skin undertone or you can get my professional opinion on your colours in person for a personal colour analysis or as part of my 7 Steps to Style program .
4. Dress in Your Ideal Value
The second colour strategy for arrowing down options is knowing your ideal value or how light or dark your overall outfit should be because that also reduces down those potential possible decisions.
Your overall lightness or darkness (the technical word for that is value) comes from your hair colour. Typically, lighter value clothes suit those with lighter hair or darker value clothes suit those with darker hair.
You don't need to dress head-to-toe in your ideal value, but if you think that around 60% of your outfit is in a value similar to your hair colour you're on the right track.
So how to find your ideal value? It's pretty simple really – and is found as part of finding your ideal contrast levels (read and follow my 3 step process here).
5. Understand How to Flatter Your Body Shape
Many women like to wear clothes that make them feel that they are flattering their shape, highlighting some assets and distracting from others (cos everything is an asset really).
There are 7 most common body shapes and you can take my free Body Shape Calculator Quiz to help you discover which of the shapes is most aligned with your body. Best part? There are no measurements required! When you're done, download your free Body Shape Bible which will give you the guidelines you need to dress your shape to flatter it.
Don't forget that body shape is just one small element of the whole style puzzle and I think personality is 10 times more important than body shape when choosing outfits and garments. But knowing your body shape and how to draw attention to your best features is a great place to start…
6. Define Your Unique Style Recipe
If you've been reading this blog for a while you'll have come across the idea of a Style Statement or Style Recipe. A style recipe is something to help you make good decisions regarding your style and to help you create your most authentic style.
These are words that help you define who you are on the inside and how you want to be perceived by the outside world. If you're not sure how to create a style recipe I've got masses of posts about this essential wardrobe tool here.
I have found that having a Style Recipe can take so much frustration out of making those decisions (reducing that pesky decision fatigue I wrote about earlier) and helping you only bring home clothes that you love (just like that jacket I featured above that I knew had to be mine the moment I saw it).
7. Try it on at Home
Last but never least, when you get the items home, don't take the tags off yet!
Now that the emotions of shopping have gone, you are in your own home where there are no pressures, and try the items on again. You can think calmly about the item and see if it's as great now as you thought it was in the store. You can play dress-ups and create some outfits with your existing clothes to ensure that it really does work for you in the way you want. It's OK to return items that are not right for you and they are not going to add value to your wardrobe. You deserve a wardrobe full of clothes that make you feel great and look fabulous too.
Anything worth having takes a little effort. The best wardrobes are generally built up slowly over time as you stumble across fabulous pieces that you love, that fit, that works for you and that are great. Rarely does the perfect item just fall into your lap. Though when it does it's a day to celebrate!
Get Your Style Fundamentals Sorted
If you're feeling a little overwhelmed (or a lot) and have suddenly realised that you just don't have the style education you need to make these decisions, this is why I created my 7 Steps to Style System to take some of this pain away and teach you the science and art of colour and style so that you are empowered to make great shopping decisions when you're trying to narrow down your options when shopping for clothes and accessories. Find out more here now.

Further Reading
9 Reasons Why Your Home is Your Final Change Room and 27 Questions to Ask Yourself Before You Buy that Garment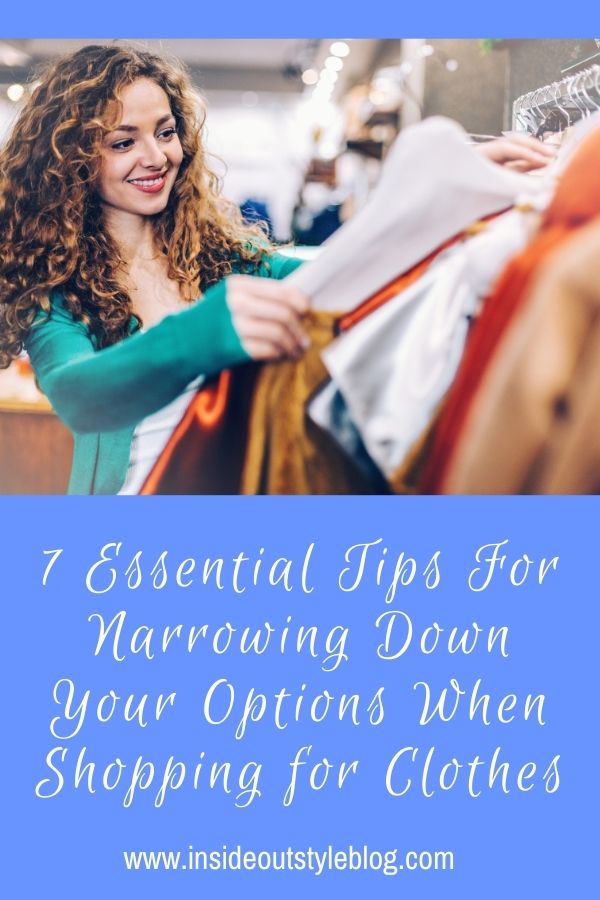 This post was featured on Links à la Mode fashion roundup by Independent Fashion Bloggers.
More fashion articles: