The O or apple shape fairly common. To be an O shape your mid section needs to be wider than hips and shoulders. It tends to appear in the post-menopausal woman, when oestroegen is no longer produced in the same quantitites, and many women thicken around their waists.
An O is most likely to have been an H shape that is overweight, it's unlikely that an X, A or 8 will turn into an O as they have the longer bodies which tend to retain a waisted shape.
The guide to dressing your O shaped body is to bypass the waist – don't belt or draw attention to this widest section. Look for shapes that flow past, and focus attention on your face and legs.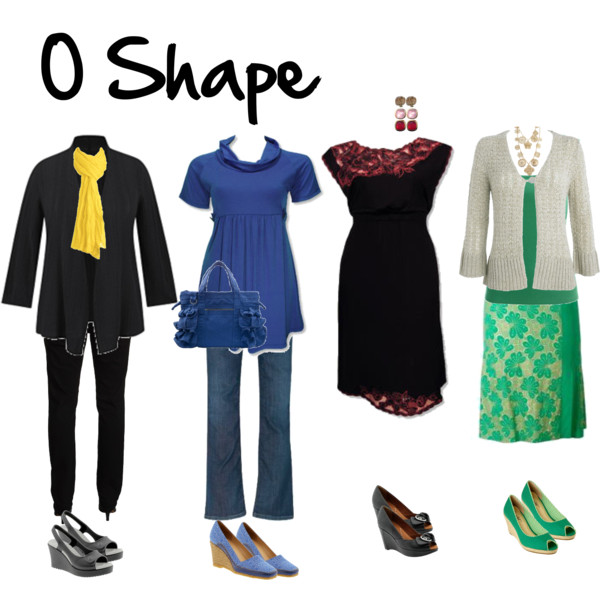 V-neck, empire line tops and dresses work really well for you, as they skim past your stomach, draw attention to your face. Wearing a cotton/lycra tank top underneath will smooth out bumps and also stop too much cleavage being revealed, plus provide a little extra coverage if you choose a lovely light flowing fabric like chiffon, gorgette, silks or rayons.
Avoid closing up your neckline with high necklines, they will make you look dumpy, instead look for wider open necklines.
Look for dresses that finish at the knee to show off your shapely calves.
Pants or trousers need to fall in a stright line from the hip and skim your waist – so NO pleats PLEASE! Look for a straight, bootleg or wide leg trousers. Also avoid any sort of pocket detail near the waist so as not to draw attention there (that means cargo pants are out). Tapered styles are also a NO NO (please don't be tempted).
Longer line jackets that skim past your waist can also flatter. Jackets are best worn open to create 2 slimming verticals.