What you wear under your clothing is as important as what wonderful outfit you put together. Your undergarments – bras and briefs are your foundations, and clothing will only look great if the foundations work for you (you don't build a house on dodgy foundations, don't wear clothes over dodgy undergarments).
If you notice that your underwear digs in and creates extra lines or marks underneath your clothing, this is a sign that they are too tight and it's worth looking into buying some new ones that fit well.
There are two important factors regarding your underwear choices with regards to how your outfit looks. Comfort and fit.
Fit of Your Underwear
It's important to find underwear that fits you well. Just like clothes and clothing sizes, underwear varies similarly and I often think it's better to go up a size in underwear if you find that the ones you're wearing are creating lines underneath your outfits (this is also more comfortable as well).
Let's talk about VPL
Though not the crime it used to be (I think because there are so many underwear options now that don't have big seams at the leg opening so are much less obvious) is something that you may want to consider. This is why for skirts and dresses I often choose boy leg underpants rather than a brief as there is no VPL and my days of wearing a thong/g-string underpant are long gone! I recently tried out some boyshorts underwear from Wama Underwear, made from hemp, which is a much more environmentally sustainable fabric than cotton, yet breathes and is and gets softer with every wash, but doesn't use the extreme amount of water to grow that cotton requires.
Bra Fit
The correctly fitting and supportive bra will make you look lighter and give you a more youthful appearance.
A good bra will give you back your waist, making you look more proportionate and slimmer.
The bra band should not ride up at the back – if it does, this is an indication that the band size is too large – try going down a band size and up a cup size.
The cups should not runneth over. If they are then go up a cup size (or two depending on how much is spilling out). You should also pull in the edges of your breast into the cup from your under arms as you put on your bra each day.
The centre of the underwire should sit against the breastbone and not sit away from your chest. If you are wearing bras that sit away – you may need to try different brands as this is to do with the width and shape of the underwire and the ones you have may not be right for you.
Just like clothing, different brands of bras fit in different ways and are made for different body shapes. Particularly with bras, as breasts have many dimensions – you may be full on the side, full on top, or full on the bottom. Your breasts may be further apart or more narrowly place on your chest and different bras are designed for different shapes and it's worth comparing your worst fitting (or least comfortable bra) with your most comfortable one – place one over the other – notice if the shape of the underwire is different – is one wider than the other?
A good fitter will find you the perfect bra. Brands differ, so you will need to try a few before you find the best for you. I like to wear a t-shirt, and try it over the bra so I can see what it looks like with clothes on, for my most flattering look.
Check out this post for more bra fitting tips.
Style of Underwear
Choosing the correct underwear is fairly simple.
If you're wearing smooth and tighter fitting clothes, look for a bra that is smooth-cupped, with no seams or lace to show through.
I recommend 'nude' coloured undergarments for any lighter coloured outfits, white tends to show through too easily. Wama's underwear comes in a broad range of "nude" colours from light through to dark!
If you have a mummy tummy that spills over the top of low rise briefs, choose a higher waist style for a much smoother look under your clothing (granny pants are not just for you gran!).
Shapewear is also fantastic, I love it to hide my post-pregnancy stomach, which is no longer as firm as it once was. To get maximum comfort, whilst still getting the smoothing effect I'm after and no spillage over the top, I recommend you go up 1 -2 sizes from your regular clothing size. There is so much elastic in these garments you will still be held in.
There are so many varieties of shapewear, I'd suggest you go and try them on in a big departments store where there are a variety of brands, because what fits and is comfortable for you will be different for someone else.
The Comfort of Your Foundations
If comfort is a big driver for you as far as your clothing choices go, this will also impact your underwear choices as well. Now depending on your size and underwear requirements, what you're wearing and where you're going you can choose a variety of styles – from bikini briefs, to high-waisted underpants, from fully supportive underwire bras to crop top style wire-free options.
When I'm working, I like a good supportive underwire bra as it gives the best lift and look to my breasts under my clothing. As someone who lacks a waist, getting the girls up high makes a big difference as it gives me more of an illusion of a waist. I make sure that the bras I choose are as comfortable as they can be.
Then I have what I call my Sunday Undies – for when I'm staying home, not getting dressed up or going anywhere. On these days I love a wire-free bra and one like the Wama race back bralettes are super comfortable.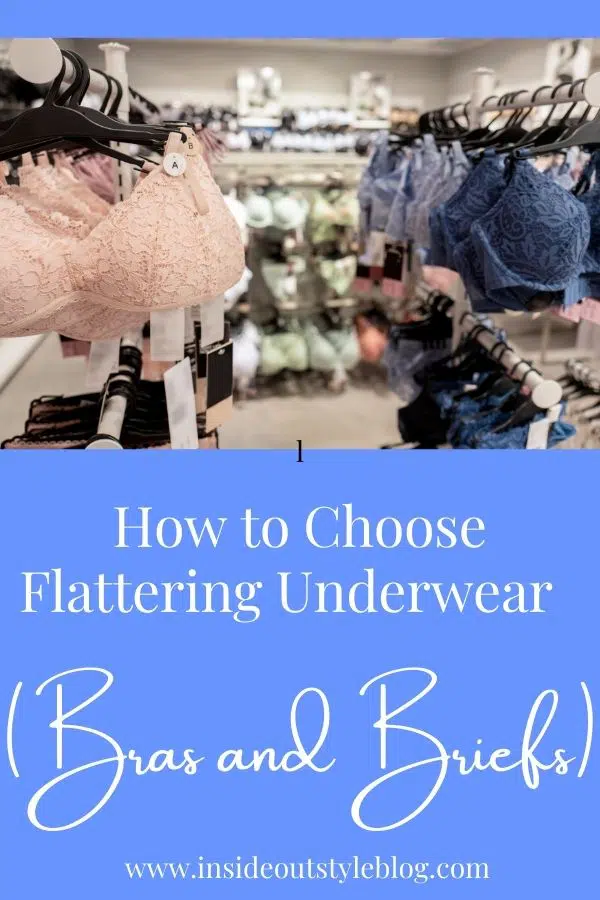 More Tips on Choosing Foundations