My daughter and her friends were chatting with they were saying low rise jeans were coming back into fashion. They were adamant that they were never going to wear lower rise jeans. When I was their age, back in the 80s, high-rise jeans were the trend. I could never imagine wearing low-rise jeans. To my surprise, 15 years later, there I was wearing low rise jeans. It's interesting to see how fashions change over time. Jeans have gone from working trousers to groovy bellbottoms through to low-rise hip-huggers and the cropped slim cut version we see in shops at the moment.
How do you choose the Right Jeans Rise For Your Body
The rise on jeans describes the distance from the top of the waistband to the seam where the crotch meets the legs of the pants. Generally, some rises are better than others depending on your body. This is related to both your body shape and your body proportion. The main difference between low-rise, mid-rise, and high-rise jeans is how high the waistband reaches up your midsection.
Here's a simple definition of rise, waist and torso measurements:
Rise is the distance from your leg break to your natural waist
Waist is the point in between your rib cage and pelvis/hip bone, where there are no bones (only the spine), it's normally just above your belly button. A short waist is one that sits proportionally shorter (less one one head length) from your bust peak and so appears higher.
Torso is your body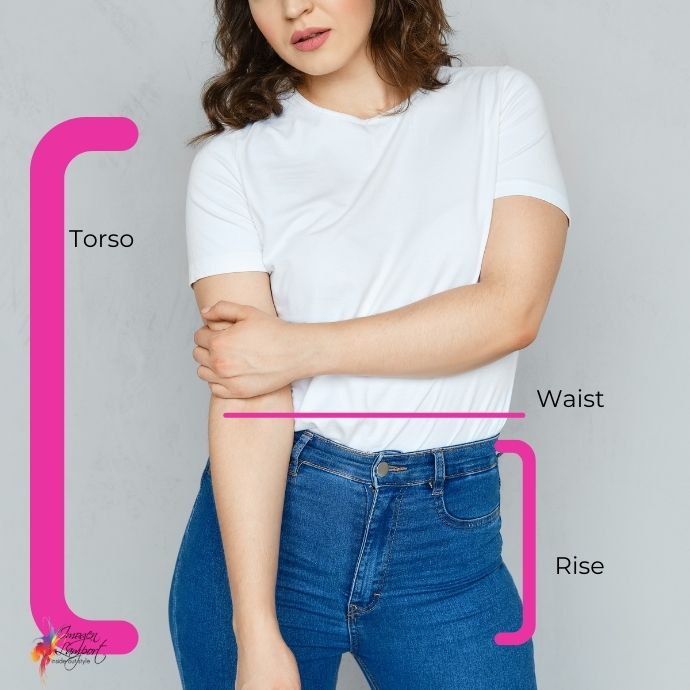 Some people have a long torso, but they are short-waisted and the length is in their rise is long.
Shorter legs with higher rise pants and jeans will make your legs appear longer.
Longer legs with a lower rise can shorten your legs or balance your proportions by making your body appear longer.
Almost everybody can wear a medium-rise pants or jeans. If you're not sure, go for a medium rise.
Just because a label says it's high-rise or medium-rise or low-rise, it may work differently for you. You may find that if you have a long rise, high-rise jeans may appear as a medium-rise. If you wear anything medium or shorter, you'll find the jeans pull down when you sit and they will go uncomfortably low over your bottom and hips. This is a common issue for A and X shape bodies.
If you have a short rise, you might find low-rise jeans sit at a medium rise on your body.
Defined waists and undefined waists, slimmer thighs and fuller thighs, rounded bottom or flatter bottom, high bottom or lower set bottom, longer rise or shorter rise …. so many things to consider and so it's completely understandable that trousers are tricky to fit.
One of my wonderful 7 Steppers Susanne, has done copious amounts of research into her own pant-fit-woes and provided me with some great photos to illustrate in this post.
There are a few try on tips to ensure you get a good fit….
There are so many jeans shapes, rises and options these days. Curvy fits, for those with more booty and a defined waist, and then straighter shapes to fit those of us with less defined waists. If you have a protruding stomach and slimmer thighs – try maternity jeans as they are designed for an O shape body.
Does the waistband force your waist in too tightly, leading to some spillover, aka muffin top, at the top of the waistband? Consider a larger size or a higher rise that sits just on your belly button. If you go up a size then the hips or thighs are too large, you will need to take in the jeans at that point this can be a common issue for H shapes and O shapes.
Sit down in the jeans. Do they gape at the back? When you sit down, you want to avoid the potential of showing your underwear on accident. Try a pair with more waist shaping and a higher rise. Or if they fit the rest of your body, have the waist taken in by a tailor. You want the waistband of your jeans to feel secure around your waist so they aren't sliding down and also aren't cutting into you.
Walk around the fitting room and squat down then stand up. The way something fits when you're standing can be totally different once you start moving, so get to moving! Do you have crotch creases whilst standing evenly and not moving? This may be a sign that there isn't enough room in the seat of the jeans or that the rise is too big for you.
Look for jeans with stretch rather than being a stiff denim as you'll get a much better fit that way. Though buy on the firmer side as they will stretch out!
If you're really not sure of your shape – take my body shape quiz here and get your body shape bible to discover the right style for you. If you'd like my professional opinion on your shape this is something you get as part of my 7 Steps to Style program.
If you can't find a pair of jeans that love you as much as you love them that you love, remember it's the clothes that are the problem, not your body.
Further Reading