Do you have a hunch at the top of your back? It's known also as a dowager's hump, hunchback and the medical term is kyphosis. It can come from poor posture over time (staring too much at your phone and slumped at your desk) and also as a spinal condition such as Scheuermann's kyphosis. Whatever the reason if this is something you'd like to make less noticeable using clothing and accessories here are some tips to help you make the hump less apparent.
1. Avoid tight fitting tops
Any tight fitting tops or dresses that cling to the hump will show it off more, so opt for clothing that is a little looser and more forgiving.
2. Collars Are Great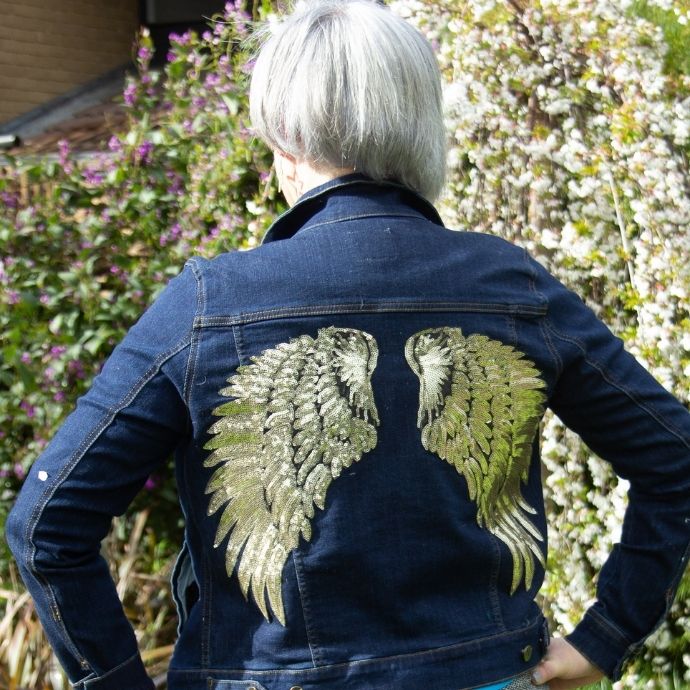 Collars on shirts and jackets are a great way of making a hump less obvious. A collar because it stands up and away from the hump and covers the top of your back and shoulders are one of your greatest styles to wear.
3. Add Shoulder Pads
Adding in some shoulder pads (they don't have to be big ones) can help to create more fullness through the shoulders and the hump less apparent.
4. Scarves Are Your Go-To
If you're wearing a lower neckline or a tighter top, use a scarf to cover the back of your neck, it can work like a collar to disguise your hunch.
5. Larger shawl collars on cardigans
Just like a collar on a shirt or jacket, knits with shawl collars that fold over help to create more volume in the upper back and will downplay any hump.
6. Keep Your Hair Longer hair
Keeping your hair past your neck onto your shoulders also acts to smooth out the area and create the illusion of a straighter line. Avoid short cuts that show off or expose the back of your neck and top of your back.
7. Accessorise to create the focal point you want

Use accessories to draw attention to where you want people to notice, we call these focal points. Maybe statement earrings won't work for you, but a necklace may, as will scarves as mentioned before. If you're providing a distraction most people's attention is not drawn to what you want to camouflage or deflect from. This is part of the art of becoming a style magician.
8. Tops in Busy prints and patterns
Wear tops with busy and dense prints and patterns. The print will make it harder for the eye to stop and notice any particular feature. This is another tool of the style magician that is so often overlooked.
9. Asymmetry
If you have one shoulder higher than the other, think about using asymmetry to draw attention away and to fool the brain into thinking the asymmetry is in the garment, rather than your body.
10. Avoid waisted dresses
If you have a prominent hump, avoid waisted dresses as they will not sit right (the curve of your back will pull the waistline up at the back). Uneven hems with short at the back and longer at the front will indicate that something is amiss. Instead opt for two piece outfits if you need waist definition for your shape. This means the hemline won't hike up at the back and fall longr at the front.
11. Necklines with gathers or pleats
Having a bit more fabric through the neckline can also help to disguise a hump, avoid a gathered neckline if you have a large bust, as this will make it look larger.
Brilliant Tricks of the Clothing Magician – How to Highlight and Camouflage for Figure Flattery