How Do I Improve My Wardrobe When Nothing Goes with Anything?
Reader question – I've got lots of one-off pieces in my wardrobe. I see a beautiful top; pair of shoes or a skirt but nothing goes with anything. How do I think about my wardrobe so it's not like several jigsaws that will never join up.
This is a complicated question without a teleport to allow us to see inside your wardrobe. But based on over 18 years experience spending time looking in other women's wardrobes, there are a few key reasons why you may have nothing to wear because your clothes don't play nicely together.
So here are my suggestions to help you identify the disconnect within your wardrobe. Once you've spotted the reason (or reasons) why your clothes don't mix and match as you imagine, then you can begin to figure out how to make your existing pieces work for you. You can develop a wardrobe plan so you know how to choose the best pieces that suits your specific needs for your body, personality and lifestyle.
Watch the video now!
1. Range of Colours That Don't Work Together
My first suggestion is to look at the overall colours in your wardrobe. Do those share the same colour properties or do you have a wardrobe with a combination of warm colours and cool colours? Perhaps a blend of bright and muted colours? When you try to wear colors which have very different colour properties, it can create a disconnect and make it harder to create outfits as these colours just don't work nicely together and clash in an unpleasant way. You in the end have only single garments or perhaps outfits, but not an easy mix-and-match versatile wardrobe.
The mark of a well-balanced closet is one that can mix and match easily. In order to achieve this, you need to have some neutral and base colors that share the same colour properties.
The colours of your wardrobe should also be colours really make you shine. If you're not sure, one of the first colour challenges you face is figuring out if you have a warm or cool skin undertone. Want to finally discover your best colours to save yourself a heap of time, energy and money? Then book in for an online-colour analysis here, or get it as part of my total style program 7 Steps to Style. Want a more DIY approach then check this blog post for my tips on how to figure out if you have a warm or cool skin tone. You can also discover here 9 ways knowing best colours will change your life as well as your wardrobe.
2. The Principle of Volume is Key to Flattering Outfits
Do you have lots of voluminous garments? The oversize trend which has been around for the past couple of years means that you may have lots of comfy voluminous garments, the problem is, that they don't always work well together. When everything appears voluminous, it will be hard to put things together. Excess fabric will overwhelm you and make you appear larger. When two voluminous items are worn together, the look becomes boxy and shapeless.
Combining voluminous items with more fitted ones is one of the key principles of coordination and helps you avoid looking frumpy and shapeless.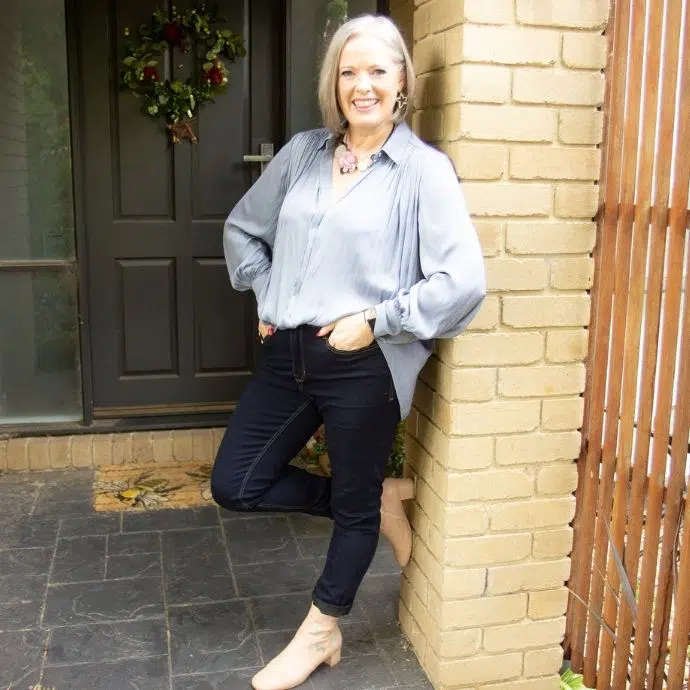 Pairing an oversized shirt with slim-cut jeans (rather than a wide leg trouser) or a straight skirt works well. Or an oversized T-shirt tucked neatly into a high waist trouser will show body shape beneath the bagginess. If you'd like some suggestions on how to wear oversized garments for your body shape, check out my post here…
3. What's the Level of Refinement?
Another of the principles of coordination that you may have been ignoring in your wardrobe is the level of refinement. Does your wardrobe contain dressy garments and very casual garments with very little in between?
The level of refinement relates to the formality of your garments. Every item of clothing and every accessory falls somewhere on the continuum of formality, and there are some broader principles you can use to see at a glance where that is.
The smoother and often the shinier the fabric, the more formal it generally is. Generally speaking, denim is more appropriate for jeans than suits, and linen is more appropriate for casual trousers, not dress pants. As a general guideline, if there's strong visual evidence of the weave or texture, it's more casual. A larger print or more colourful print also makes a garment less formal.
In assessing the formality of a garment, prints and patterns also play an important role. Clothing with patterns tend to be less formal than those that are plain. Within prints and patterns, smaller and less dominant patterns are more formal and refined than the large and loud patterns.
Another consideration is the construction of the garment. A garment with some structure, and made from a woven rather than stretchy knit fabric is viewed as more refined. This could be clothing with lining or padding; pleats and darts; pressed creases or collars and lapels.
If you're trying to mix dressier items with more casual ones you may find the look isn't as good as you'd like (now this is something that can definitely be done, it just needs some skill and the education to know how to do this well). It's a really important consideration with regards to the shoes you choose for an outfit, as if you select a shoe with a very different level of refinement than the garments they are going with, you'll find that the outfit may not work as well as you'd hoped.
How You Can Develop a Personal Style That Opens Doors
If you're not loving your outfits or you often wonder why you have a wardrobe full of clothes and nothing to wear, you might benefit from my free video masterclass How You Can Develop a Personal Style that Opens Doors. I talk through how to define your personal style to give you the confidence and knowledge to create a cohesive wardrobe full of clothes that you love to wear so why not take an hour out of your day, grab a drink and a notebook and join me for my masterclass here now.
Further Reading
7 Reasons Why You Have a Wardrobe Full of Clothes But Nothing To Wear and What You Can Do About It
4 Simple Tips to Help You Build a Stylish Wardrobe of Clothes