If you've got a flat chest, either that's just the way you are or you've had a mastectomy and decided against reconstruction, you'll have discovered that most women's clothes are made for boobs, so what are the styles of clothes you can look for that will enhance your figure?
1. Extra Fabric Volume Over the Chest
This is one of the easiest things to look for in women's clothing. Frequently you'll find a frill or some extra fabric volume that's designed to go over the bust area.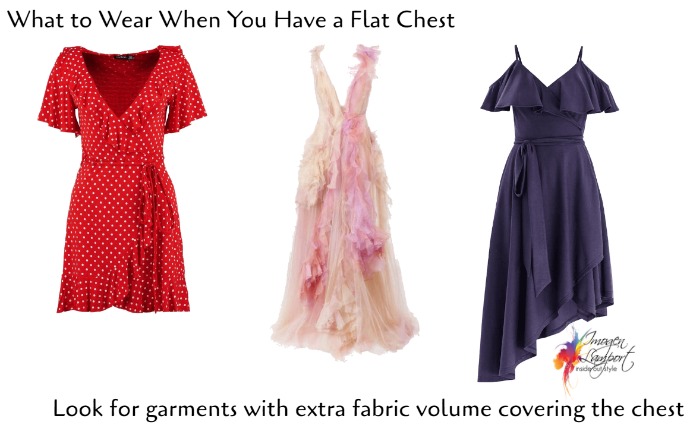 2. Low V Necklines
Lower necklines work well when you don't have boobage that's likely to fall out! In fact, it can look amazing on a flat chest having a deep low V shape (not at work OK, but out in the evening, it's an option for you!).
3. Off-the-Shoulder Tops
You don't need a bra, so any sort of top that is off the shoulder, one-shoulder or strapless could be an option! No uncomfortable strapless bras for you!
4. Busy Patterns
Tops and dresses in busy patterns are also another way to distract the eye so that nobody notices what is actually going on underneath (it's a trick we can all use – we are often told that we should avoid patterns as they can draw attention to a body part, when in fact, a busy all-over pattern can be great as the eye can't settle and just keeps on movin' on!).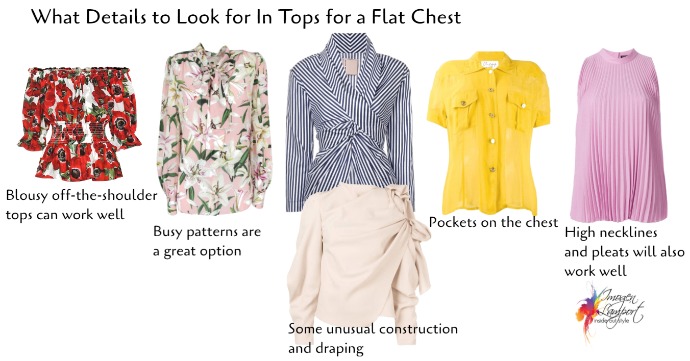 5. Unusual Construction and Draping
Another option is to find tops with some unusual construction and draping that means we are delighting in the creative construction and therefore it distracts from the expectation of seeing a bust. You will also find it could be easier to alter out any excess fabric that has been allowed for the bust (some creative darts) in this kind of shirt or top.
6. Chest Pockets
They are the enemy of the large bust and the best-friend of the small or flat-chested!
7. High Necklines
Just as you can do the super low V neckline, you also rock the high neckline. Then add in some pleating (as I've done in this example above) that would just make a bust look enormous, this would be great on you.
8. Darker Tops
A darker top makes the area recede, then adding a lighter coloured jacket or cardigan will also make it less obvious. This is particularly useful when choosing knit tops.