How we can we honour our style recipes in a retail world where quality is low, prices are high and individuality is minimum? I live in NYC and many of the interesting boutiques are gone and most stores carry very similar inventory.
Honouring Your Style in a Mass Market Retail World
To feel truly stylish and comfortable (mentally, physically and emotionally comfortable) in your clothes, your outfits need to be a good representation of your personality. And with mass-market retailing and the internet making trends become so generic so quickly resulting in what feels like every store carrying clothing that looks almost exactly the same as the last, it can be hard, when your personal style requires uniqueness and individuality as core tenants.
Before you shop, it's best to truly understand your personality and style essence (this is what you get with our 16 Style Types reports), and of course, colouring, body shape, interpreting personality into clothing styles and lifestyle needs are also must also be taken into consideration. The more you know the better your purchasing decisions will be which is why those who have done my 7 Steps to Style program spend less but look and feel way more stylish! Colour and style knowledge are a great investment in your style and that investment rewards you over and over for decades.
I understand how frustrating this can be, to find the unique and original when all around you is a sea of generic.

9 Top Tips on Finding the Unique and Individual
1. Know Your Style Recipe
Develop a style recipe and know what ingredients go into it. If you don't have that sorted out it can be harder to know what it is you're looking for.
You also need to be aware of your wardrobe holes and needs as you're curating and building the perfect wardrobe for you.
2. Research Online
Research Online – where to discover the more unique and individual brands that may not exist in retail stores (or stores you know about)? This is where the internet is your best friend and an amazing source. You can find possible designers that you may want to consider from the comfort of your phone/tablet/computer. Search on Pinterest (use words from your style recipe in your searches) and check out Instagram for inspiration and labels. Join a style based Facebook group (such as my Inside Out Style Lounge) and ask for recommendations.
Yes, the internet is the place these days to research and find the more individual and quirky as you are not limited by location in any way. Check out websites like Not Just a Label who promote emerging talent.
3. Shop Online
There are many smaller designers who may be stocked in a few boutiques, but just don't have the distribution channels to turn up in a local store to you. What is great, is that this needn't stop you from owning and wearing their pieces anymore.
Smaller brands with more unique offerings such as High Tea with Mrs Woo, Dogstar and Dizingof are all small Australian brands that produce interesting garments that you won't see anything like in your local chain stores.
Etsy is another brilliant option for finding those interesting items – many Etsy sellers will make for you too.
EBay is another place to find more unique and interesting items.
Check out lists of ethical clothing retailers too – often the smaller more unique artisan brands care about the integrity of their production and environmental impact – some links here to help.
4. Search Out Boutiques
Fortunately, there are still some small boutiques around (not as many as there used to be), not in the larger shopping areas most of the time but often in the sets of smaller shops or off the beaten track. Ask around for recommendations, you may need to go outside your neighbourhood to find them.
5. Vintage and Thrift Shopping
Don't want to look like everyone else? Then both vintage and thrift and consignment stores are great places to find clothes and accessories that don't look exactly like the current offerings in your local mall.
Creative and unusual clothes sit outside of fashion trends and can be found in the 2nd hand market (also available on ebay). The more creative and individual your style the easier you'll find items this way.
6. Outlet Stores and Markets
If you don't care about wearing the latest fashions, these stores and be treasure troves to hunt through and find something a little quirky – often in the outlet stores (like TK/TJ Maxx) as they were passed over and are often that little bit more different. You'll also tend to find every colour of the rainbow in them, not just what the current season's colours are that are in every other store in the mall.
Arts and Craft markets are also another great option for finding unusual items, be it jewellery or garments.
7. Make a Dressmaker Your Best Friend
Or learn to sew and make clothing yourself. This way you can have unique items made in fabrics and colours of your choice that nobody else will be wearing!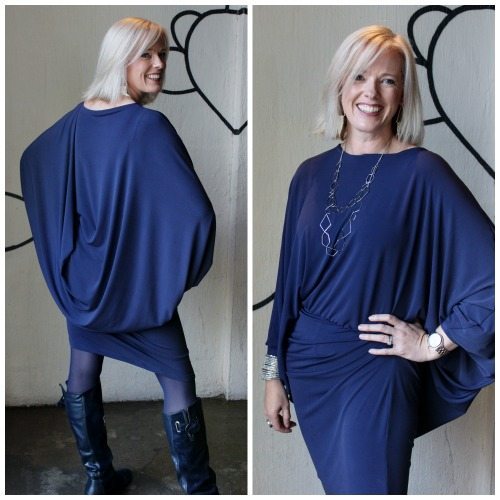 My dressmaker (Alfia Galimova) makes me items that you'll never find anywhere else!
8. Alterand Embellish What You Own
Maybe you've got some garments already that you feel are just not unique enough for you. Why not think about putting your own unique touches on them.
Dye – recently I got a cream top with a pattern, loved the shape and style, but the colour made me look jaundiced (just too warm for me), so I dyed it teal – and now it's perfect! Read up here on how to dye and overdye your clothes so they flatter you.
Embellish – have you thought about adding a trim or some sort of embellishment to your clothing to take it from dull to dashing? Upcycling is a way to make something old or dull interesting instead.
Alter – sometimes a small alteration that adds a detail or changes the shape will make a basic garment meet your need for individuality.
9. Shop on Holiday
And think about shopping when you're away from home. I buy most of my patterns when I'm overseas as I know that I'll not be sporting the same thing as everyone else in town when I return.
Be warned that when you shop on holiday, it' easy to buy only holiday clothing, so make sure you ask yourself "would I wear this at home in my regular life?" And "will this work with other items I already own?". There is no point in purchasing tropical holiday clothes when you have an urban city lifestyle.
What are your tips for finding the unique and original pieces? Who are your favourite small labels? Please share in the comments!