When economic times are tough, what can we do to save on our wardrobe? Here are 4 easy to follow budget fashion tips for the Recessionista Fashonista.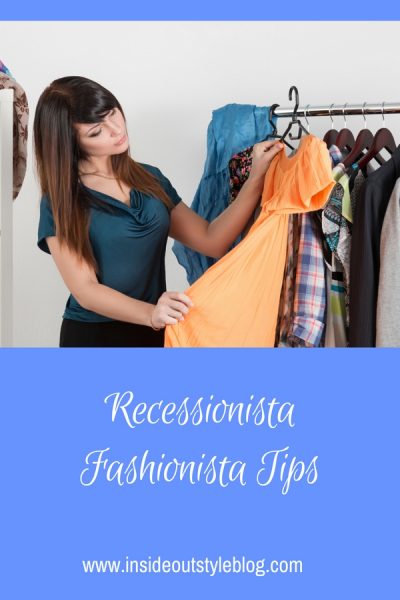 1. Alter
You can make a garment fit properly with alterations. I spend a lot of time in wardrobes pinning garments, adding darts when it's too boxy, taking up hems that are too long, putting ruching where there was none. All these things make a garment fit better and flatter more. Throwing out is not the answer. A good alterations person can actually change the size of the garment sometimes quite radically.
2. Dye
My clients are often surprised when I suggest that instead of throwing out a garment that is in an unflattering colour, that they could try dying it into a great shade for them. Especially if they like the garment and it fits and flatters and is good condition. Natural fibres dye, synthetics don't. Why not give it a go? I once got a black stain on a white silk shirt. Instead of throwing it out, I bought a box of navy dye and dyed it, the stain has disappeared, and the shirt has a new lease of life, in fact, I prefer it navy instead of white.
3. Revamp
Often buttons are a sign of the age of a garment, swapping your old dated buttons for something modern can really lift a garment. Making an armhole smaller can also take years off your look (and slim down the size of your body in the process). What other ways can you modernise your existing wardrobe? You might wish to embellish in some way (though beware the bedazzler!), done tastefully this can lift a plain garment into something that appears designer.
Here is a great example by Kathleen Dougherty of GrograinFabulous
From...
To...
4. Fix
If the button has fallen off, sew it back on, if the hem is coming down, sew it (or if you have to, get some hemming tape and iron it) back up.
Time is money, and we are all time poor these days. The time it takes to shop for a new garment, plus the money you spend on it, is usually more than the cost of a revamp or alteration.
There are lots of books out there that can give you inspiration too: