Op Shops, as they are known in Australia, Thrift stores as they may be known outside of this wide brown land, are a fantastic place to find clothes and accessories.
Why is this? Well not everything is tired, worn out and old (yes there is some of that) as so many people have unworn garments in their wardrobes, often with tags still attached, that they realise are wrong, and donate to the charities that run these Op Shops and are sold on again to a new home.
Having been through some lean times in my life, from teenage years where my babysitting income of $2 per hour didn't buy much in the mall, but allowed me to find a piece or two at the local Vinnes, to more recent times when as a single mother times have been tough, and my local Salvos Store has been a great place to allow me to update my wardrobe for next to nix.
One of the great benefits of thrift shopping is that you get to try out shapes and styles of clothes without committing a lot of cash, so if you discover that something just doesn't work for you there isn't the same guilt over a chunk of wasted money that you may get at this much lower price point.
How to Have the Best Thrift Shopping Experience
Shop with a Plan
Knowing what you want is the key to success for any kind of shopping experience. Knowing what you actually need and then looking specifically for that will save you time and energy.
That's how I found this denim jacket. I decided that I wanted a nice soft, shaped denim jacket, so every time I walked past my local Salvos store I popped in, and a couple of weeks of doing this, voila, a fabulous denim jacket that I love!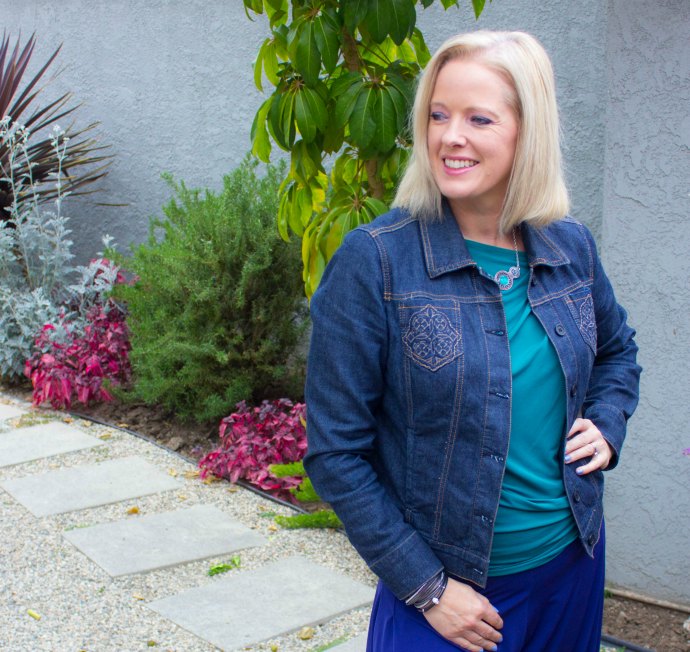 Drop in Regularly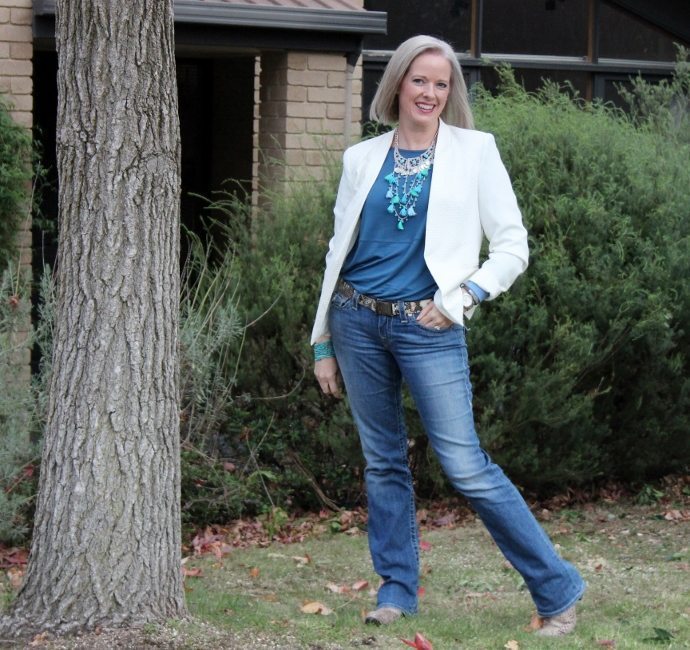 When you do regular but quick perusals of your local thrift store you're more likely to find the gold hidden within. These jeans (7 for All Mankind) were one of my finds and they may not have fitted their original owner, but they do fit me!
Know Your Colours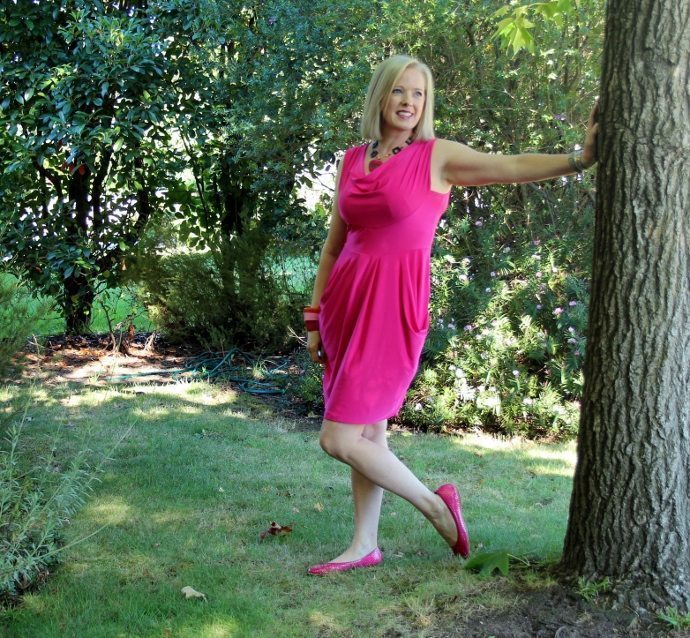 Knowing the colours that suit you makes thrift shopping so much quicker and easier. I picked up my favourite coloured dress in a gorgeous hot pink because I can so quickly and easily gravitate to 'my colours'. When there isn't a lot of choice, knowing colours speeds up the process of looking through what is there!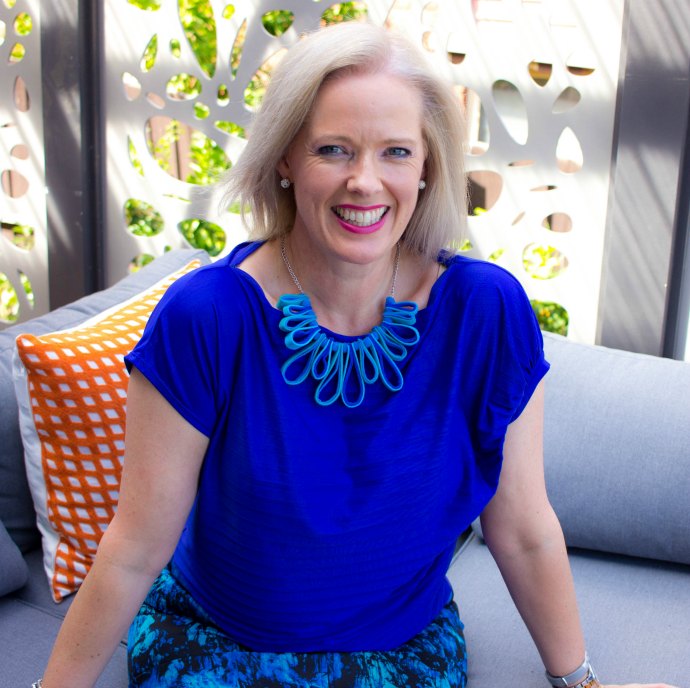 This blue top is another of my finds.I knew that this colour would work so well in my wardrobe with many of my existing clothes.
Look for Common Items
What do lots of people buy and then get rid of because of fit issues? Jeans, white shirts (particularly in the men's section if you want a classic button down) and knit tops, accessories.
This green tee (Max and Co.) I picked up at a Salvos store, barely worn and so both my colour and style. Why was it still hanging there? I suspect because on the hanger it doesn't look good, but on it has great shape and drape. It's often easy to find great quality and designer items at thrift stores when you know what you're looking for.
Don't for Forget to Accessorise
There are lots of fantastic accessories in op shops. They are fantastic places to find scarves, bags, shoes, belts and jewellery (and even glasses frames).
This necklace is one I picked up on a recent op shopping trip and I love it as I've wanted more necklaces with red in them. And then this fun square blue ring was also found on the same op shopping trip.
Over the years I've also found unworn shoes, belts and some fabulous handbags as well including these red boots.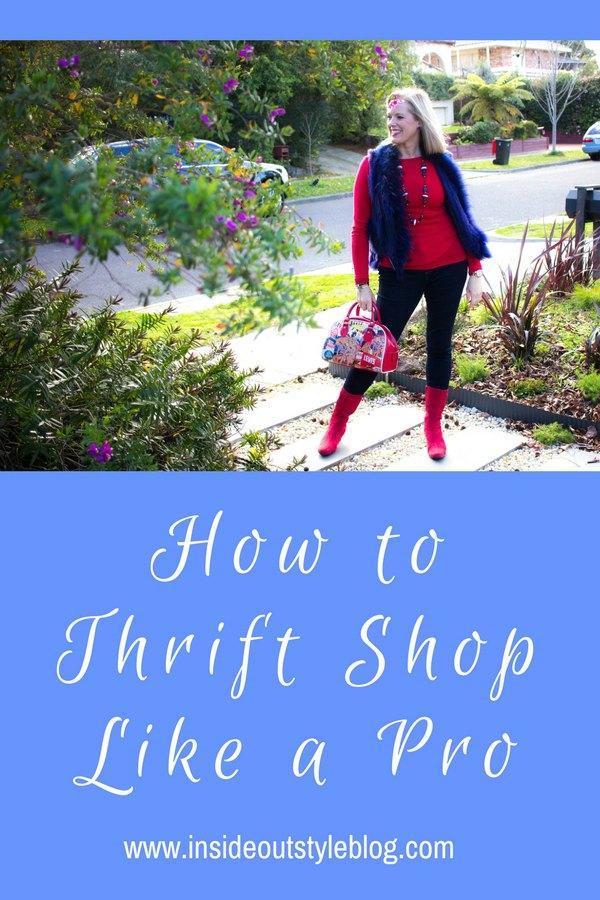 Share the Love
Why not go through your closet and donate all those barely worn clothes and accessories that are just taking up space. Donating them to the charities that run thrift stores is a great way of recycling and allows them to find a new home where maybe they will get more love.
Benefits of Thrifting
You are helping to recycle clothes and accessories that would otherwise end up as landfill. Now that's good for the planet and your children's future! Plus you're not purchasing something that is taking more energy and resources to make (did you know it takes something like 70 gallons of water to make one cotton tee!).
You can try out new styles without spending much and I know that many of those in my 7 Steps to Style and Evolve Your Style programs all thrift when trying new accessories and garments that may have been things that they don't want to invest in but would like to discover if this is something they really want to add to their wardrobes.
You are likely to find amazing garments (including designer pieces) for a teeny tiny fraction of their retail price.
You'll end up with a more unique wardrobe.
Many items have been 'pre-shrunk' as they've been washed before, so that's something you don't have to worry about.
You can use your imagination and create something new out of something old if you're a little crafty (check out what my friend Cintia made from her op shop finds, a bomber style jacket and she even made a leather bag from an old leather jacket).
You're donating to charity. Yes by choosing to shop at a thrift store you're not only protecting our environment, you're making a donation to a charity who helps those who are in need.
Do you thrift? What are your best finds!