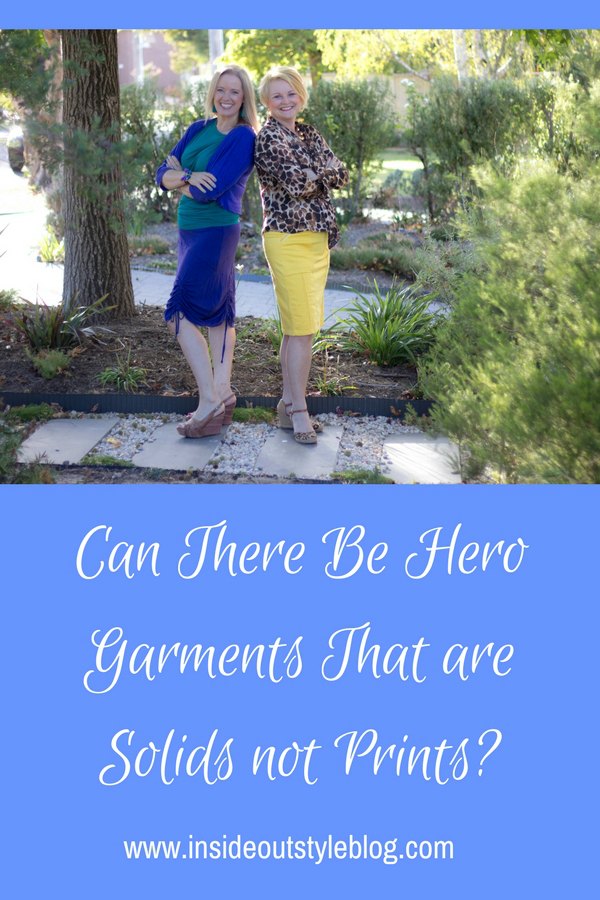 In this podcast episode, Jill Chivers of Shop Your Wardrobe and I discuss how solid garments can still be classed as heroes. Not all statement (hero) items are prints, so what other elements of garments can be heroes and how can you tell the difference between a hero print and an interest print.
Which Kind of Print Might You Choose if You Were Going to Wear a Print?
Your choice of print, if you wear any print at all (stripe, floral, abstract, animal etc) is influenced by your personality. Often we can feel that we should have more prints, or the current fashion trend print in our wardrobe. But if the print isn't a part of your personality style, there is no point in purchasing it.
Which Prints for Your Personality?
Classic and Relaxed personality dressing styles often choose solids rather than prints (or more subtle pinstripes for your true Classic).
Relaxed go horizontal stripes and checks.
Feminine's go for floral or curvy prints.
Dramatics may prefer animal prints or any sort of big bold print taken from any other personality style)
Creative's like abstract prints and wearable art (and are also the print mixers of the world)
Rebellious look for tattoo style prints, or skulls or other insignias of this sort.
And last but not least, Elegant Chic prefer smaller geometric prints or stylised prints.
Prints are Not the Only Heroes
So what other garment details make heroes?
Texture can easily replace print in making a garment a hero
Fabrics that have a sheen or a unique finish
Bold colours or high contrast colours can create that statement element in the outfit as a whole.
Large-scale details such as a flared sleeve, or an exaggerated shoulder or collar, these make a garment into a hero
Jewellery, scarves, shoes, belts – accessories – can all be heroes – the bigger, bolder or brighter – the more statement they become.
Construction elements – where they are noticeable and make a statement
Prints that are Interest Pieces, not Heroes
Blended prints are often less obvious, as are smaller scale and low contrast prints. These can add what appears almost to be a subtle texture or just some interest to the outfit without being as obvious as a hero.
Fine pinstripes are not heroes, but interest pieces.
Figure Out What Prints You Love
Print is so personal, if you don't like a print, if it doesn't speak to you – don't buy it.
Jill loves animal print (and we've discussed it here and how to choose flattering ones for you) and will only wear a floral if it has animal print interspersed within (and she's "putting up" with the floral element of the print).
I prefer curvy and fluid prints rather than straight prints such as florals (such as stripes and checks).
Love Your Prints Madly
Prints and Hero Items – you want to be madly in love with them (it's got to be ranked higher than an 8/10). They have to feel so fabulous for you and a true expression of your style or they'll be worn once or twice and then ignored and left to languish in your closet.
I love butterflies – but I don't love every butterfly that I see, in fact, I think I only have 3 butterfly tops – with butterflies on them and 2 scarves and a butterfly bracelet (and a couple of necklaces… ok I have a few butterflies in my wardrobe). Not masses as I'm choosy about which butterflies enter my wardrobe. I have to really love everything about the butterflies to want to take them home.
So when choosing a garment that is a hero, whether it's a print or not, you have to love it and it has to feel so right to you.
If you're not sure of your personality style and how you want to reflect who you are in your clothing, I highly recommend doing 7 Steps to Style – in Step 1 – you'll discover all about how your personality influences your choices and it should become clear why you've loved certain items in your wardrobe and not others over the years. This alone will help you save so much money on your clothing purchases as you no longer fall into the same traps.
Do you have a signature print? Do you love certain prints? Do you tend to wear hero prints or statement pieces that are solids, textural or accessories? Tell us about the heroes in your wardrobe!
More Tips on Choosing Prints
7 Things You Must Consider When Choosing a Flattering Floral Print for You
What to Wear: Prints and Patterns, Getting the Value and Contrast Right