How Do You Know You've Found the One?
Not the man or woman of your dreams, but the clothing or accessory you've been searching for?
When is it time to settle, when is it time to give up and get something made, and when is too soon and you haven't looked enough?
Jill Chivers of 16 Style Types and I discuss this in this video.
Is there a Perfect One Anyway?
Sometimes there just isn't what you're after doesn't exist.  Body shape, colouring or any other aspect just isn't available, so my recommendations are to have something made (or make it yourself if you have the skills).
Do you need to let go of the idea that the "perfect item" even exists?
Are You Settling for 2nd or 3rd Best?
Do you make decisions too quickly as you have a need for closure, but then keep reopening the question of finding that perfect version of an item that you've now got multiples of them and none are quite right?
Or you may just hate shopping and looking and just want to "be done with it" and find the first available thing that kind of meets your criteria and say "yes to the dress" but not in a good way?
Both of these are dangerous ways to shop and will have you end up with a wardrobe of clothes that you don't love, that aren't quite right
Which of these is "best for me"?  Ask this question of your multiples that you've acquired can help you let go of the not so great and clear out some clutter.  There is research that shows that once you own something you place a higher value on it, and so being wary of this before you purchase means that you don't have to "let go" of something that has suddenly become more valuable to you.
Never Settling at All
Being unable to match up the "vision" of what we are after with the "reality" of what we can actually find in stores.  And so never purchase something you really need.
This is a problem for some, where the searching and searching of stores (or the plethora of options on the internet) can become exhausting and that elusive item may not actually exist (or will never meet your criteria).  It's also the desire to "keep your options open" just in case something better pops up on the next shopping website (or in the next store) and you are constantly searching but find it impossible to make a decision.
Remember, perfection doesn't exist – and perfection can be the enemy of action!
How to Know When to Stop Looking?
Knowing what are the elements of an accessory or garment that can be compromised on (such as needing to make a small alteration to make it fit perfectly) is one of the keys.  When you think about a garment there are lots of things to consider  – fabrics, colours, styles, patterns, scale, details, feel, personality, fit, style recipe etc.
Plus, how much time and effort have you put in (this goes back to the hunter/gatherer in us) is another question to ask?  Is it a good use of your time?   Part of the reason for that "higher value" once you own it, is that it's not just money, but also your precious time and energy that have also gone into the acquisition.
Knowing your 3-5 Guidelines is Key
As I've talked about before, having your key criteria, your key guidelines of what are your "must haves" versus what are your "nice to haves" are.
What you won't ever compromise on versus what you can make compromises on.
Having defined your 3-5 guidelines will give you a firm foundation to make your decisions on.
Does it tick your boxes?  If it fits your key criteria and it's at least an 8 or more (read about that here) then it's to make that purchasing decision.
Knowledge is power here.  Knowing your body shape and proportions, your texture and sheen, your personality preferences, your ideal scale and colouring and contrast, are all important ingredients that go into finding your 3-5 key things (and knowing these things, which I share in my 7 Steps to Style program will save you thousands and thousands over your lifetime as you stop making poor purchasing decisions).  Investing in knowing what works for you means that if you tend to buy too soon, you can learn what you need to hold off for, or if you're in the "never make a decision" camp then you will know much more about when something does fit all your criteria.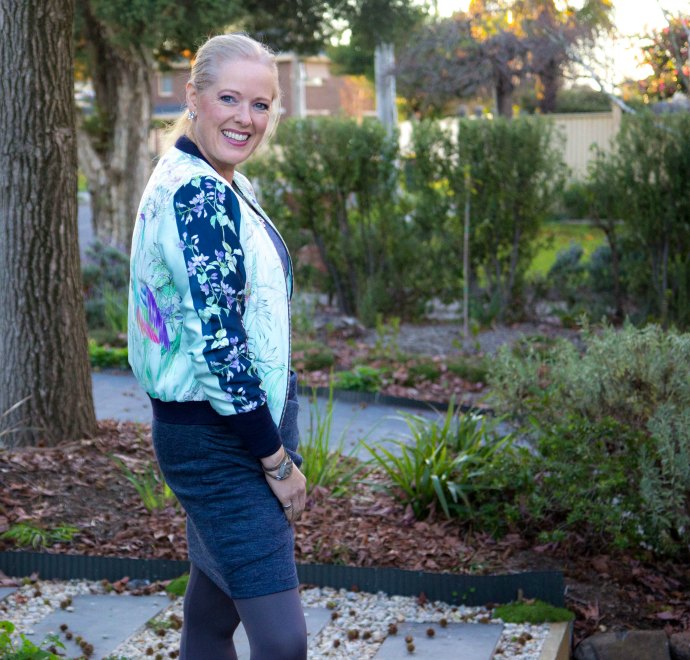 The minute I saw this jacket (above from Zara) I knew it was "the one".  Met my criteria for colour, personality, fabric, comfort, body and style recipe – the one compromise I made – contrast is a little too high – but overall it's my ideal value (just the stripe on the sleeve that's too dark) and because it fit all my other criteria so well, I was happy to compromise on this element.
Have You Shopped Your Wardrobe First?
Particularly for events – have you ever thought about shopping your wardrobe first? Maybe you already own something (or can create something) from your existing wardrobe and you don't need to buy.
Optimal Stopping Problem for Those Who Never Settle or Settle Too Soon
Ok, so the maths geniuses have also gotten in on this little conundrum.
This is set to solve the issues of "the one that got away" and also the "no stone left unturned" to find the best of what is available.  It's all about how much "looking" you do before you "leap.
What is the optimal time to stop and make a decision?  Well according to the book Algorithms to Live By (and yes, I listened to the audiobook version of this from start to finish – it was totally fascinating to the nerd in me) the answer is … 37%
Helpful Imogen (yes I can hear you muttering that under your breath as you read this…
What does 37% mean?
Ok so if you give yourself a time limit to find something for a special event.  Say 1 month. Then how do you use this 37% rule?
For the first 11 days you are only looking, you're not buying, you're doing research on what exists.
But on day 12 (that's 37% of your time) onwards, be prepared to immediately commit to the very first item that beats whatever you've already seen.
There you have it – the solution to knowing when you've found the one – all wrapped up in a lovely algorithm!
Your Style Type May Hold a Key to The Answer for You
Do share your experiences – do you buy too early and settle too soon or do you never make a decision?
This may come down to your style type (and we've discovered in our research of the 16 Style Types) that some types settle too soon and some find it almost impossible to make a decision.  Knowing that you have a tendency one way or the other can help you create your own key criteria to help you make the right decisions for you (and your wardrobe).
What Guidelines to Follow When Your Body Shape isn't "Standard"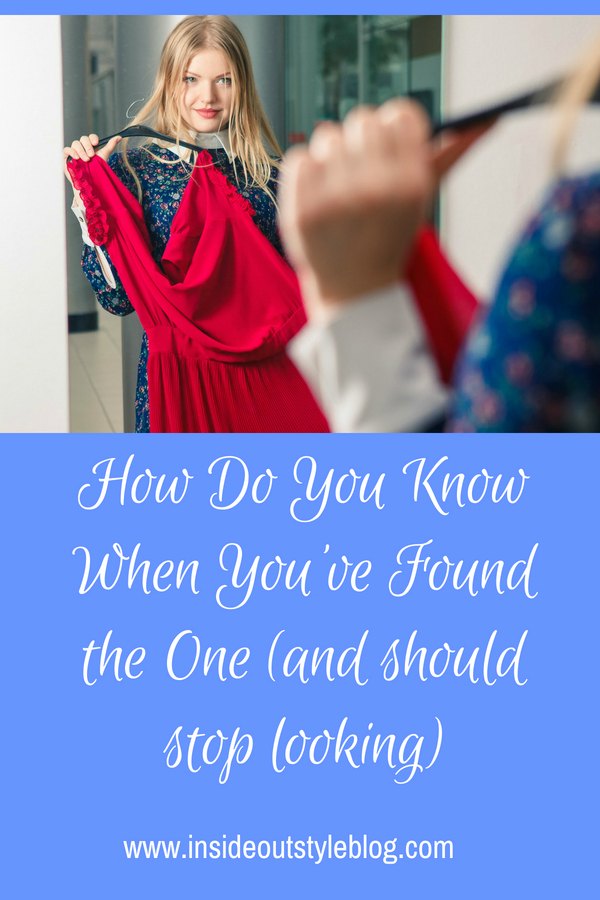 Linking up with Visible Monday, Style with a Smile, Not Dressed as Lamb