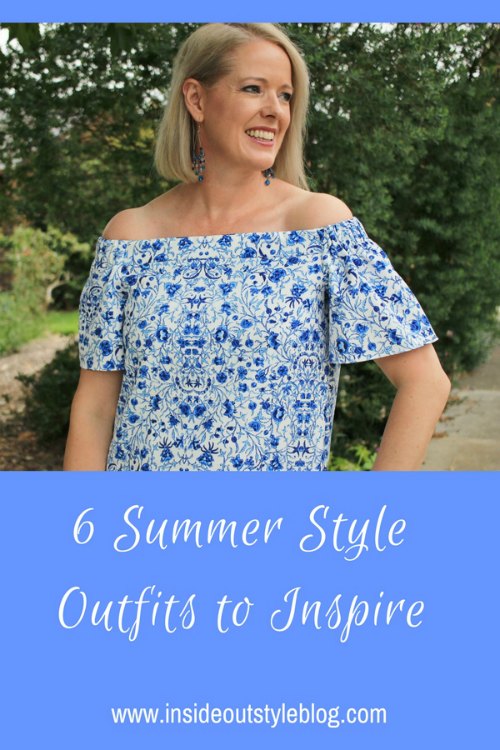 This summer in Melbourne (so far) has been hot, but not what I'd call 'stupid hot' where it's over 35C for 10 days – 3 weeks at a time. It's mostly in the 23C – 33C which is easy to enjoy.
Some mornings are cooler which ask for a light sleeve or sometimes a lightweight legging, to be taken off as the day heats up.
I'm definitely preferring looser tops this summer.
Blue and White Off the Shoulder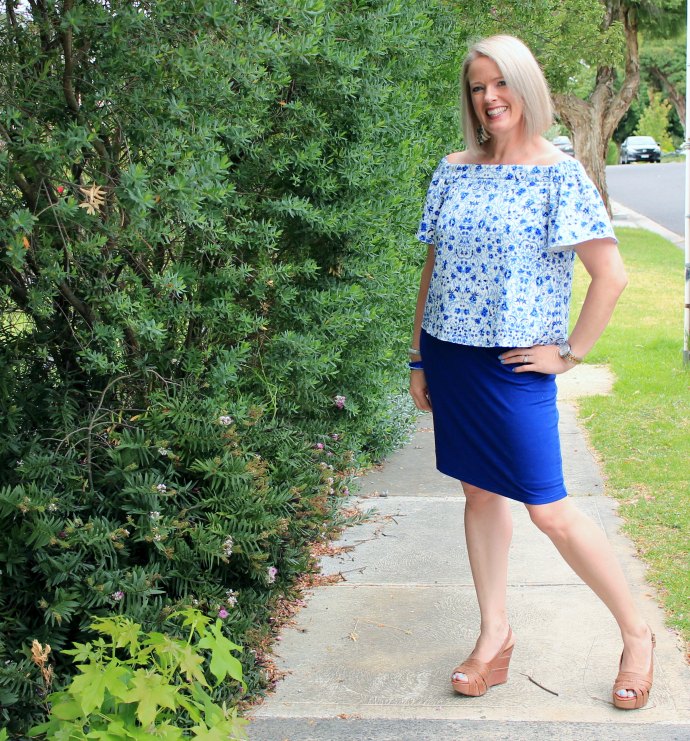 Off-the-shoulder tops are everywhere this summer. This blue and white print off-the-shoulder top from Dotti ticked my blue and white style crush box and is super easy to wear. I'm not sure how long this trend will last so I didn't invest heavily in it! As the weather cools down I will try wearing it over a long sleeve knit.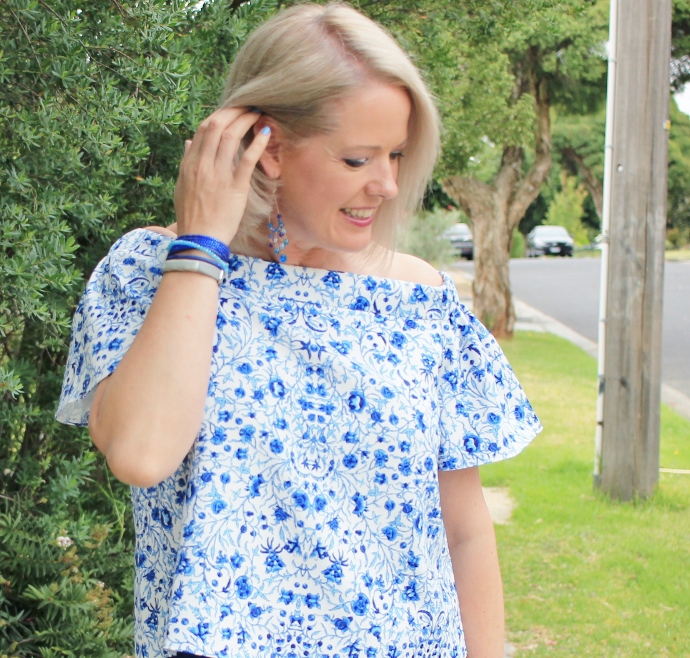 Because this top has a dense pattern and the neckline is a feature, I decided not to add a necklace, but instead to put on some statement earrings and a couple of bracelets in a similar colourway.
Convertible Caftan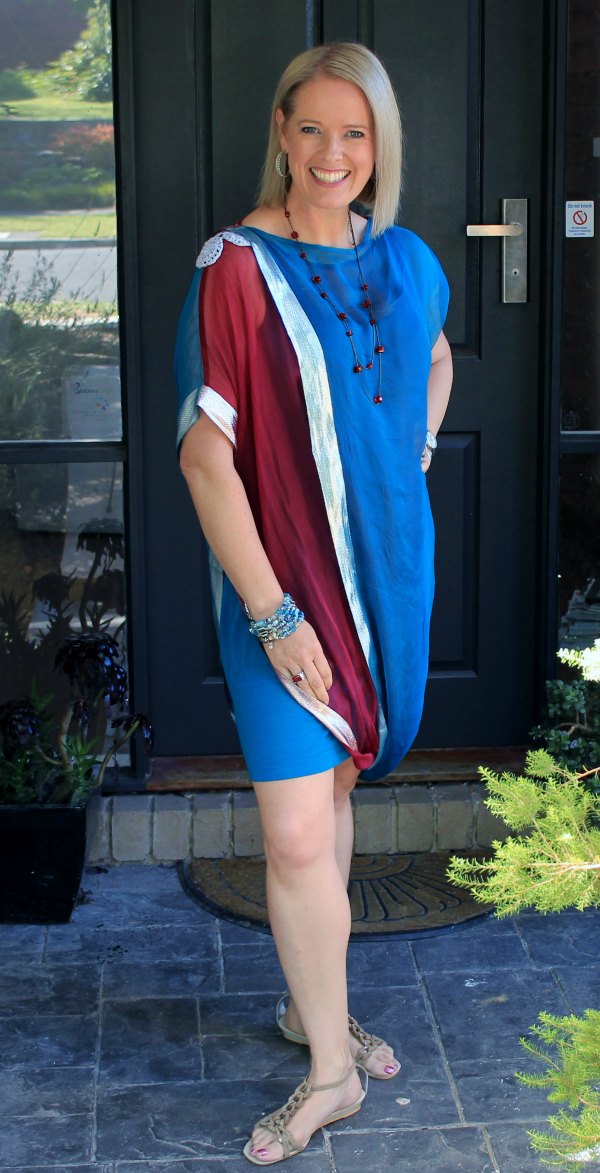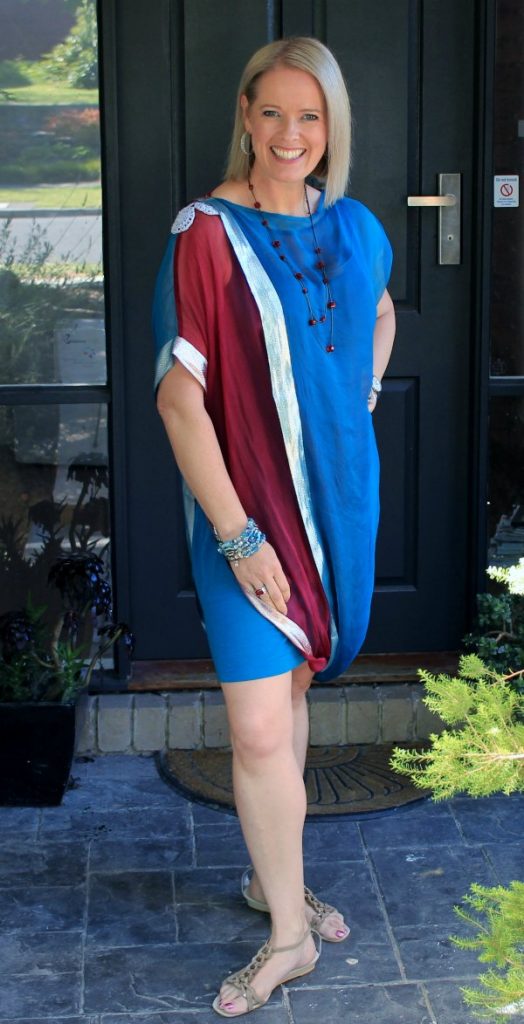 On a hot day I love a caftan – this one I commissioned from Alfia Galimova (who made my wedding dress and a bunch of other unique pieces in my wardrobe). It's from fabric I brought back from my trip to Dubai and you can wear it two ways.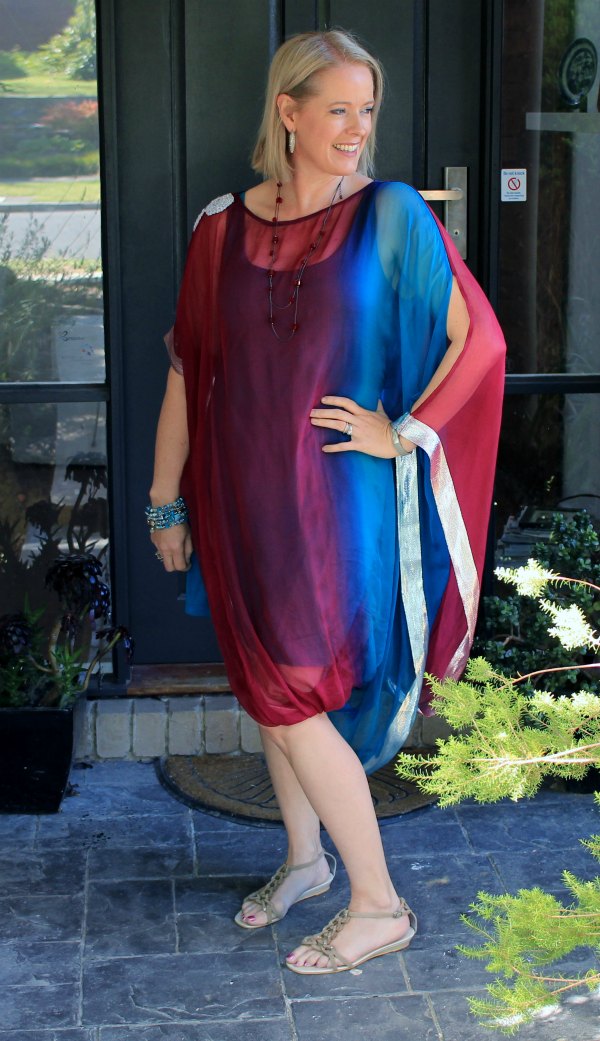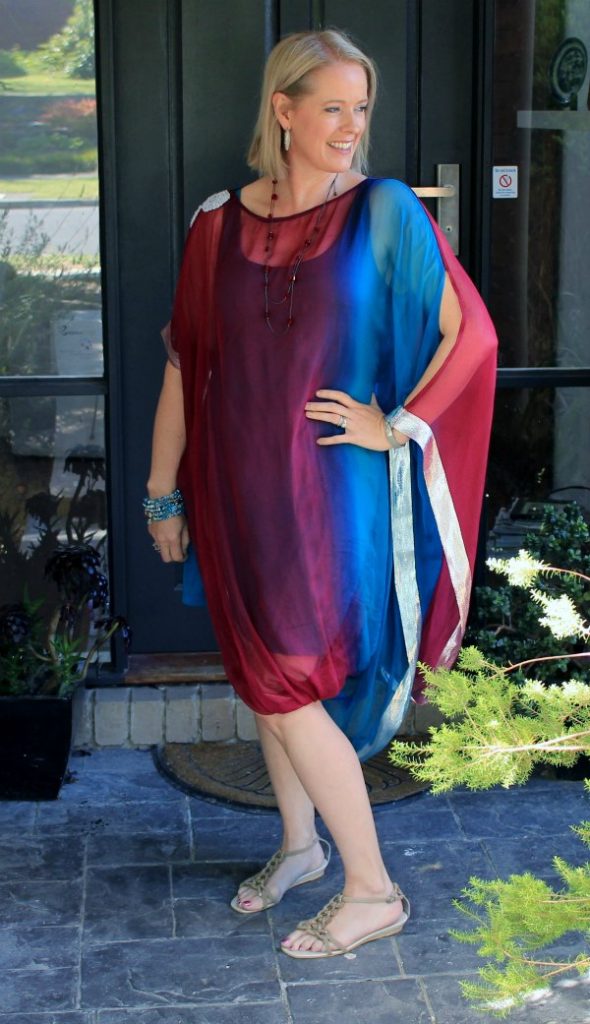 The split sleeve you see here, also becomes a neck/head hole.
Purple and Sheer Grey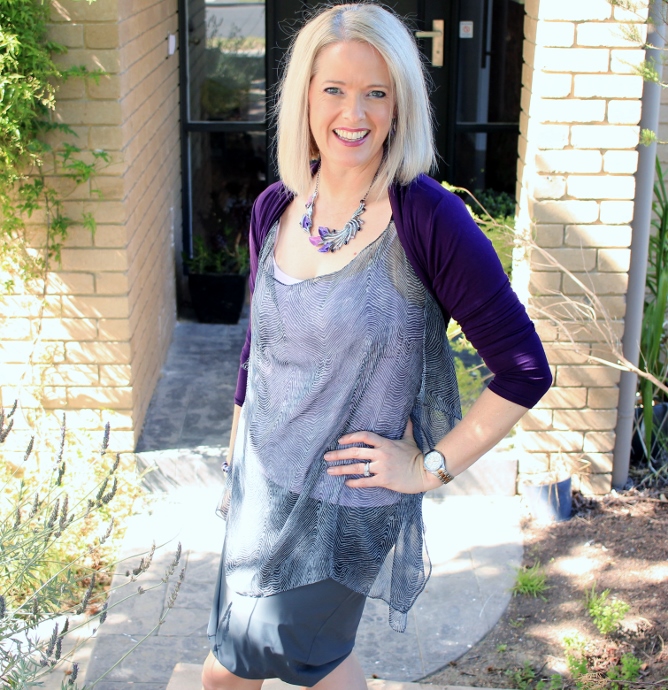 Now that I'm not as keen on me in black as my colouring is light and it looks much harder against my skin, I've been investing in more grey garments which are much easier to wear and make it easier for me to create a medium contrast outfit. The sheer grey top (which is actually made up of black and white wiggly stripes but reads as grey because of the sheerness of the fabric) darkens the light tank underneath to create the medium value contrast I need.
Oh and that necklace is from Amazonas is the shrug.
Fresh Mint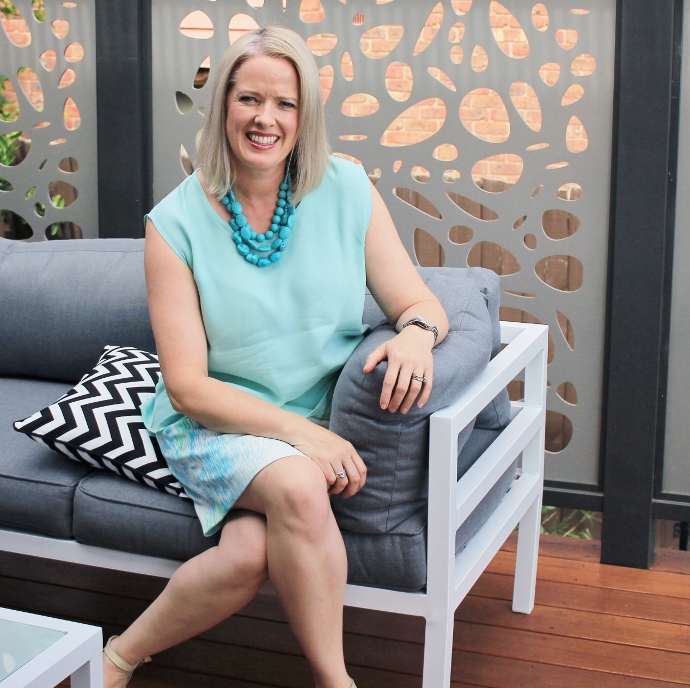 Mint feels so fresh on a hot summers day. This top (Sussans) works so well with my white, blue and green (Tahari) skirt and turquoise beads.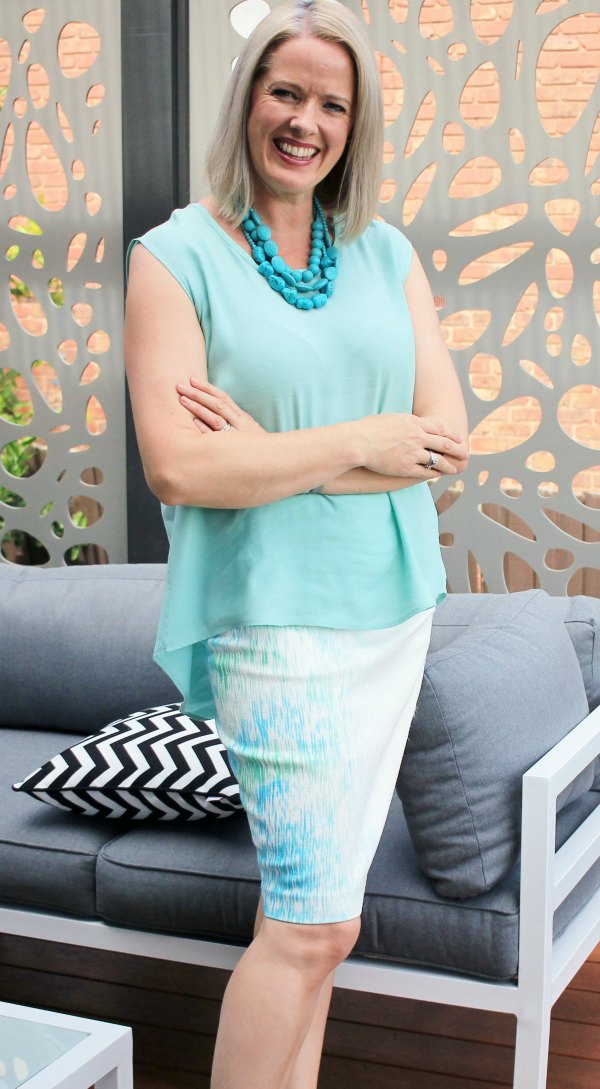 When wearing a longer loose top like this one, it's best to pair it with a more fitted bottom, like a slim jean or a straight skirt, otherwise you can easily get overwhelmed by too much fabric.
Mixing Butterflies and Leopards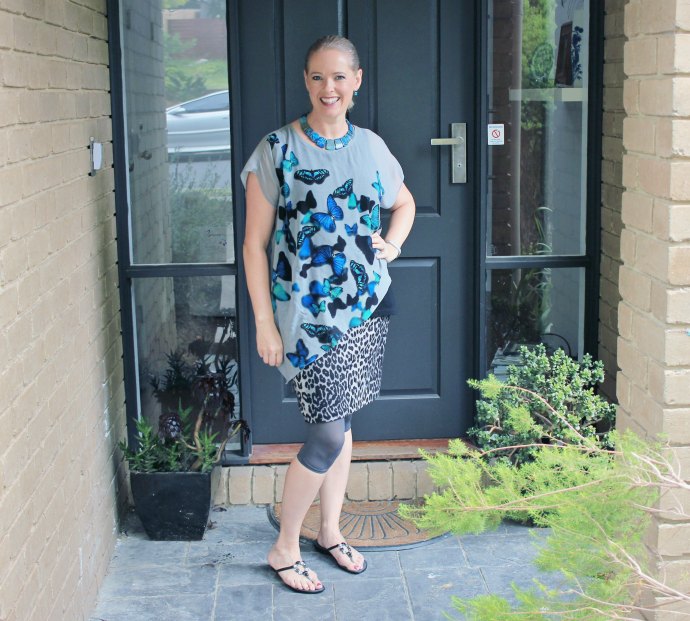 I've been challenging myself to put together outfits from existing pieces in new combinations, this combo of the butterfly print with the leopard isn't one I've tried before.
Navy and Cobalt with Touches of Turquoise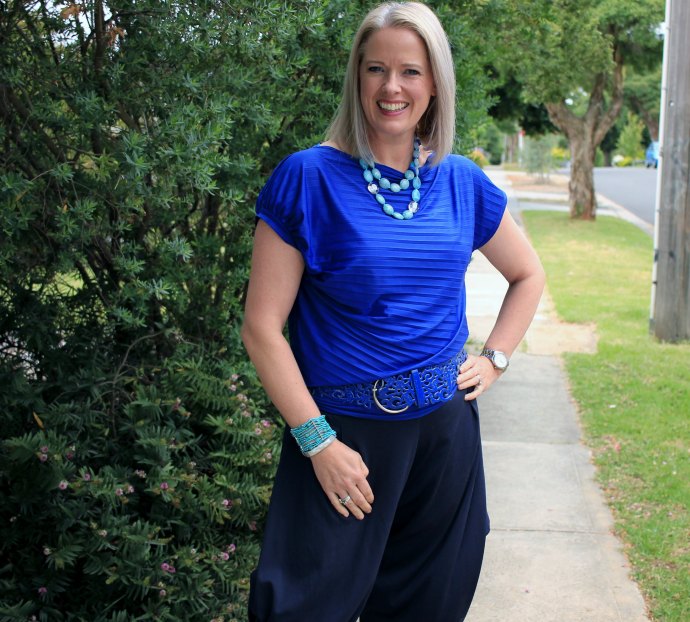 Turquoise really is such a versatile colour – you see me pairing it with so many other colours as it's a warm blue, so plays well with others. Here I've added turquoise jewellery to my cobalt and navy.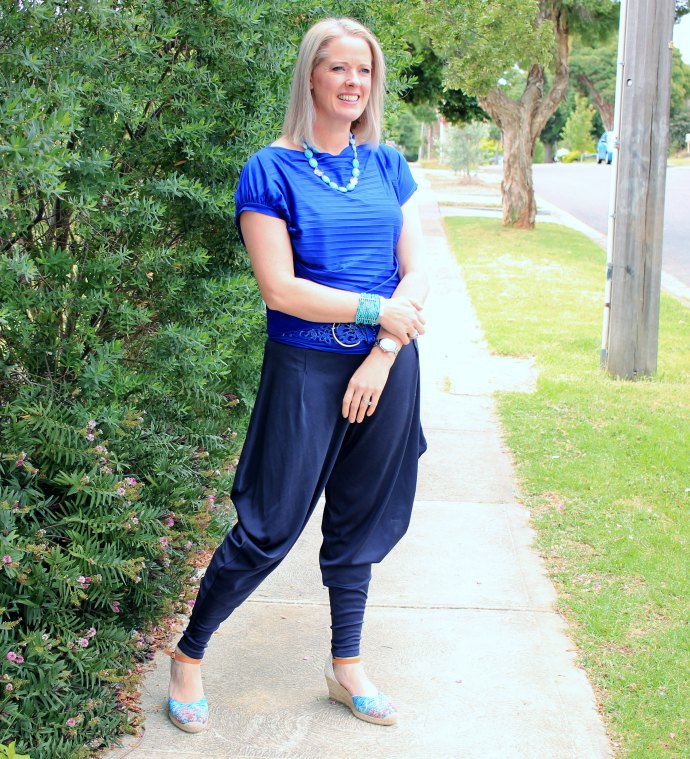 These harem pants I made myself – they are my 'tracksuit alternative' and are light and easy to wear and I've added a belt for a textural element (and also to disguise my pot belly!)
Check out more of my Summer Style here.

Linking up to Thursday Fashion Files, Not Dressed as Lamb