Today is Australia Day, and it's a day that is traditionally celebrated with barbecues. It's a day at the end of the summer school holidays that is usually hot and a reminder that the working year is gearing up again (Australia really does go on holiday most of January). We love a bbq so I thought I'd sharethis year's advertising surrounding the Australia Day tradition.
And every Australia Day, the Australian of the Year is announced, this year it's an amazing scientist who you'll have never heard of, Alan Mackay-Sims – find out about his amazing research.
Along with Australia Day, I'm Co-hosting the High Latitude Style, Link Up Party (find out more a little further down the page). And given it's summer I thought I'd share some of my recent summer outfits.
Summer Style
Summer Style for me means loose and lightweight, colour and comfort.
Blue, Grey and White Patterned Jacket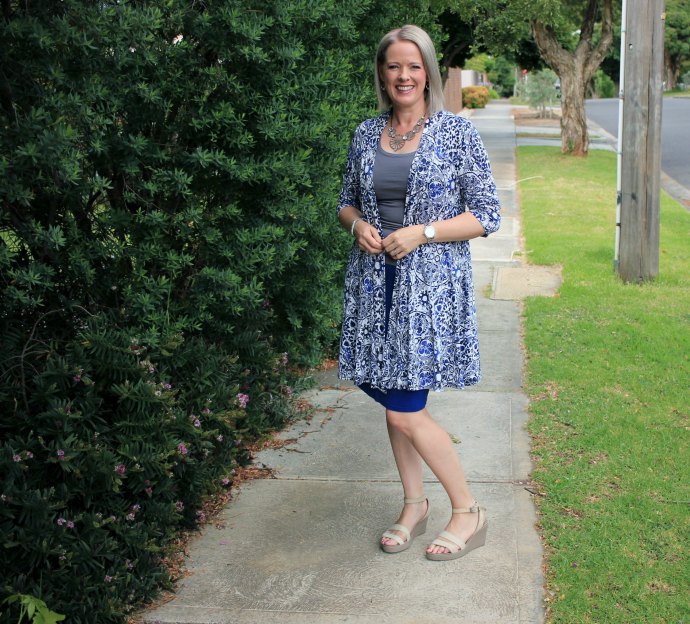 If the morning is cool I'll have a light layering piece. This longline jacket from New Zealand label Richmond Road (not even sure if they are around anymore) is one I picked up 5 or so years ago and hasn't had a lot of wear, even though I love the blue, white and grey pattern. It felt too formal or I just hadn't figured out what to put it with. So I challenged myself recently to create an outfit around it, and lo and behold, I discovered that my grey tee and blue knit skirt were a match made to go with this jacket. I'd been so fixed on the idea of wearing it with white and blue (and I don't have the right kind of white that matches the white in the jacket) that I'd put off wearing it. Discovering that my grey blended really well with the grey in the pattern made it the obvious choice. So obvious I'd been ignoring it in my wardrobe for some time! Then I needed to choose a necklace, so I went for my 'wagon wheel' necklace for it's circular shape which relates to the circular patterns in the jacket.
Shoes – super comfy from Crocs (can you believe it!).
Cobalt and Grey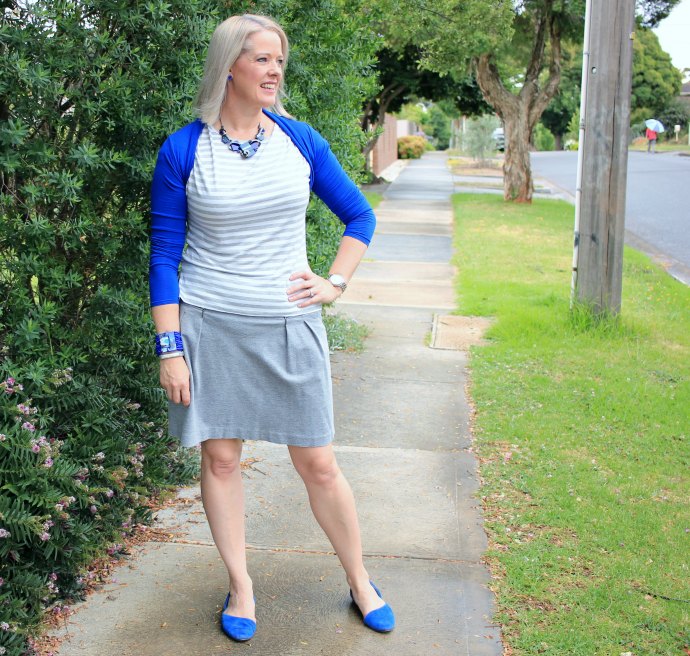 I love this cobalt blue, and for me it adds the punch that thisgrey and white outfit needs. Because I knew the day would heat up and I'd be loosing the sleeves (shrug) by lunchtime, I ensured that the colour pop was continued through in my shoes, bracelet and necklace.
Shrug from Amazon
Hot Pink and Turquoise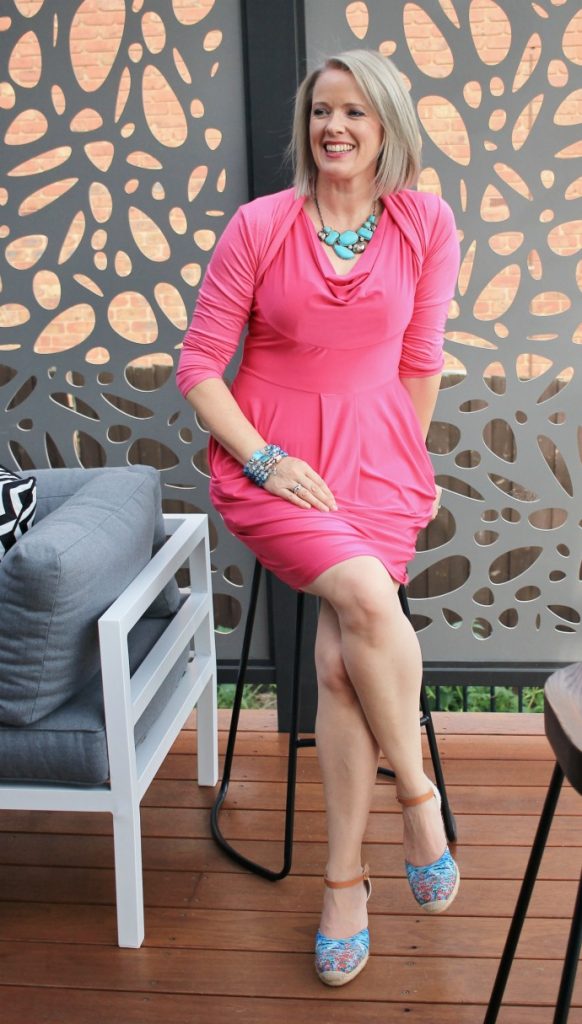 Hot pink is my "happy colour" and this stretchy dress is a great one for a hot day. I recently found these fun turquoise patterned espadrilles which gave me the inspirationto add the turquoise jewellery, which helps to draw the eyes up from the feet to my face.
Hot Pink and Navy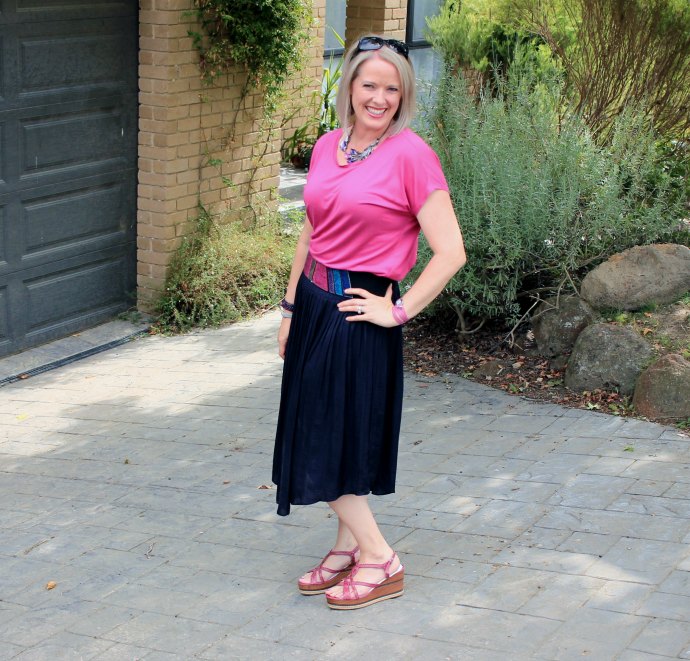 Another hot pink day. I was running a Look Good Feel Better workshop and I like to wear pink (which is a brand colour for the charity) to the workshops. What to wear with my pink tee (and matching watch!), a navy skirt (Sussan) in a lightweight fabric that's so easy and breezy to wear on a hot day (it was about 35C). Adding the belt with it's pink, purple, blue and green accents meant I could add a purple accent necklace and bracelet to the outfit and have it all tie together easily.
White and Turquoise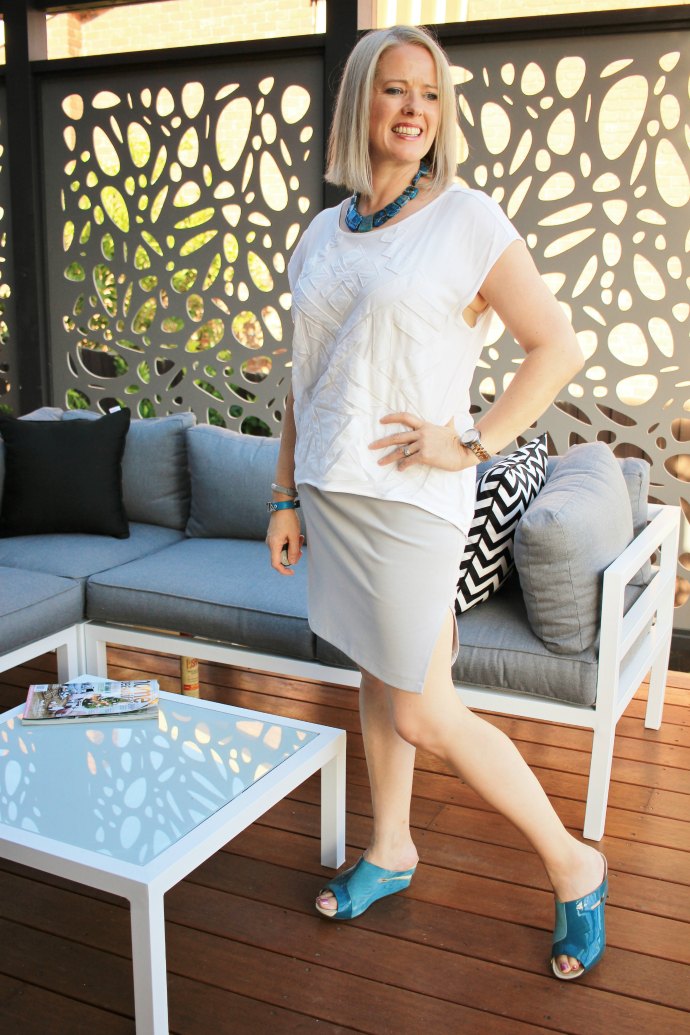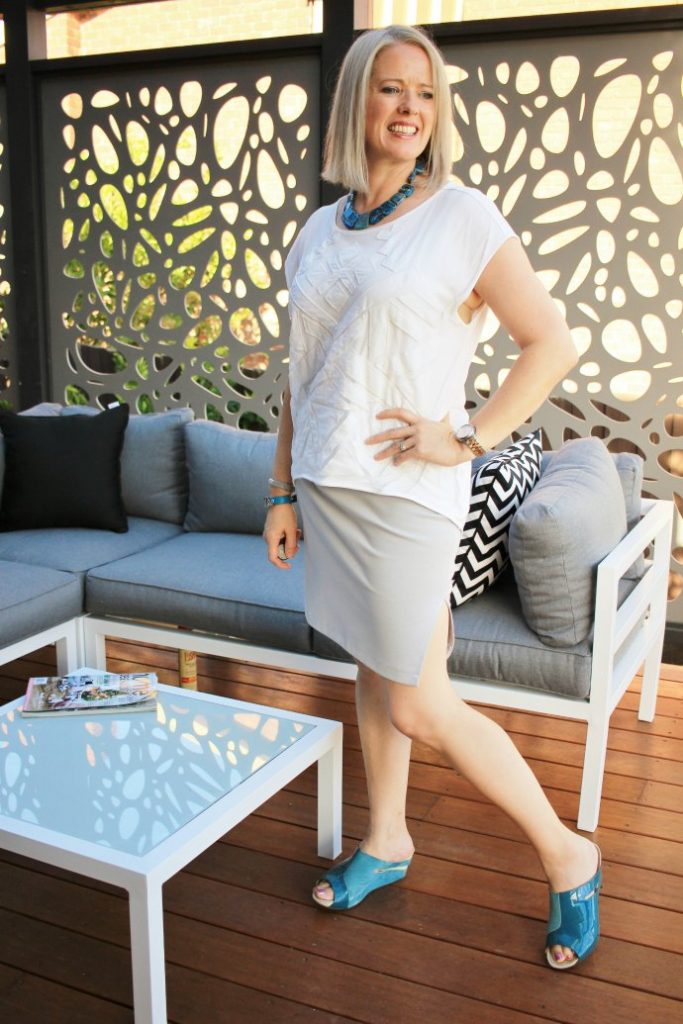 I love white in summer and a loose tee on a hot day is ideal. This tee is layered with an embossed pattern which takes it from bland to interesting but without making it difficult to wear in many situations. I decided to add my turquoise shoes, and jewellery as I need to wear one colour with my neutrals for my ideal colour contrast. The turquoise necklace also creates my ideal value contrast back with the white tee.