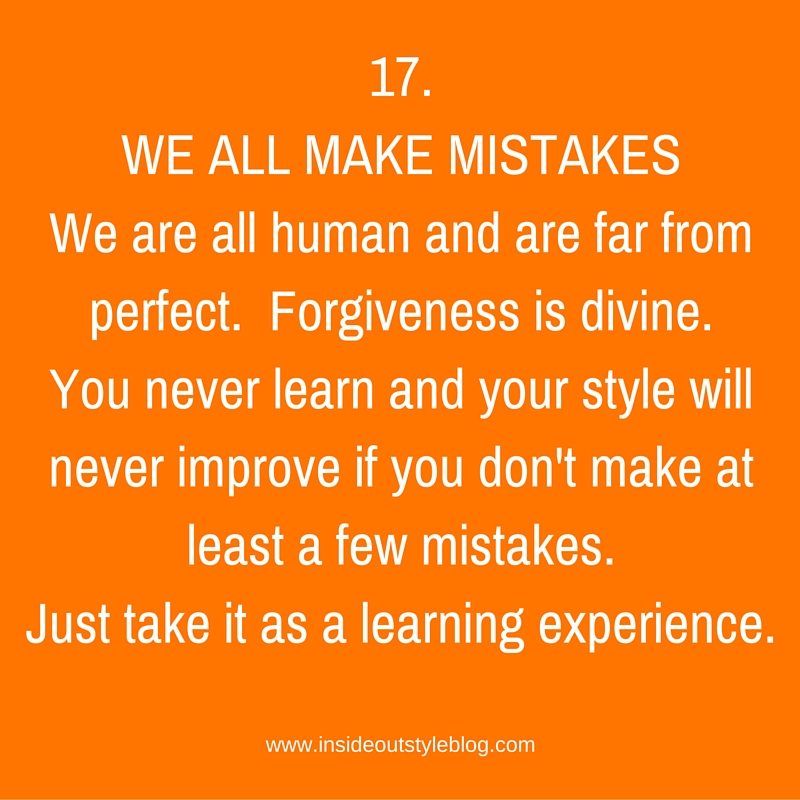 I can't tell you how many time I've heard (and if I had a dollar for every time, well I'd have a few dollars) people say to me "I don't accessorize because I don't want to make a mistake" or "I can't wear – INSERT GARMENT/ACCESSORY NAME HERE – because I don't want – INSERT EXCUSE HERE".
Many are worried that somehow they will make a fool of themselves, so err on the side of bland and boring for fear of being noticed or even ridiculed.
Now I don't know about you, but I've not had any friends or family die from accessorizing badly or even putting an outfit together that doesn't hit the mark.
But not trying something new for fear of making a fool of yourself is just not a good enough reason to back away from style.
Watch This
Take Action
Spend a week – every day – wearing a little something that you would normally avoid. Love pants – wear skirts or dresses. Never wear earrings – then wear them.
It doesn't have to be a big thing, but make a change every day to what you'd normally wear. If you're stuck for ideas why not take part in my Evolve Your Style 31 day challenge which asks you to try just one thing every day. It's fun and completely OK to make a "mistake".
At the end of each day notice how you feel, others' reactions and if it's something that you would like to add to your style repertoire.
You may realise you need to tweak a little (or a lot), or that what you wore really isn't you or doesn't suit you (then you can let it go and free up space).
And don't be down on yourself if you don't feel amazing and stylish. Style is a learned skill. You can learn it (which is why I write this blog and have created my 7 Steps to Style program which will teach you all about your style).
Push a little or a lot, but remember it's about learning not perfection.
Further Reading
Melanie of Bag and a Beret shows that you're never too old to try something new.
Sue of Une Femme shares her thoughts on evolving personal style.
Patti of Not Dead Yet Style shares some great tips on how to understand your style.
Why you should analyse your outfit
Why taking an outfit photo will help you hone your style.
How to up your style in incremental steps
Tips on how to cultivate your style