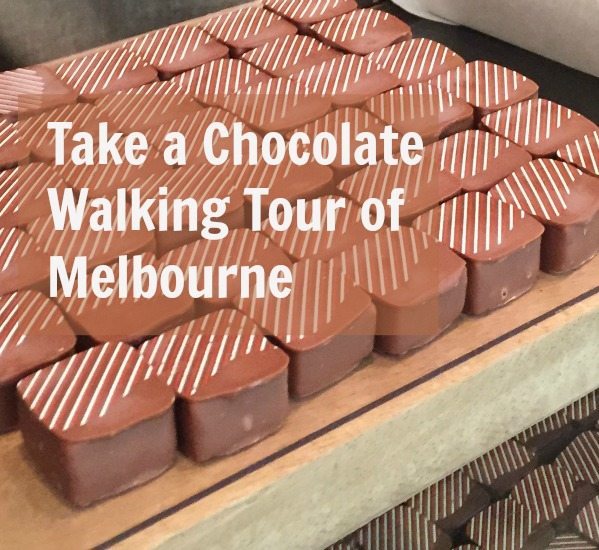 I've got a confession.
I'm a chocoholic.
I've been a chocoholic since childhood. My brother hates chocolate, and I love it. I always thought that I got the love of chocolate for two since he didn't like it. He got the love of licorice (I hate that).
When I was invited to take a Chocolate Walking Tour of Melbourne I grabbed the chance, and I have to tell you that even though the day I was booked was a lovely 39C/102F and the thought of being outside and walking around Melbourne wasn't the most inviting thought, my love of chocolate didn't let the extreme heat deter me!
We met up outside the Information booth at Federation Square opposite Flinders St Station and headed out of the sun into Degraves St which is a small street that held our first stop, Chocamama. Inside it was cool (otherwise the chocolate would melt!) and full of delicious treats.
All the chocolate we tried on our walking tour was of the highest quality, couverture chocolate.
Chocolate is made from mixing cocoa with fat and sugar.
What is couverture chocolate? Well unlike the cheap supermarket style chocolate, it contains higher percentages of cocoa butter ( 33%-39%) as the fat (rather than vegetable oils which are in most of the cheaper chocolates). This higher percentage of cocoa butter improves the flavour, and mouth feel is creamy and smooth.
Chocamama – 6 Degraves St Melbourne
Locally made Australian confectionary and premium chocolate. From boiled sweets to chocolates in many shapes and flavours. Come and try the delicious chocolate covered pretzels if you like that savoury/sweet combination.
Then we proceeded to The Block Arcade, which is a small shopping mall built in 1893 to resemble the Galleria Vittorio Emanuele in Milan, but on a smaller scale. The floor is covered in gorgeous mosaic tiles and is the home of Haigh's Chocolates.
Haigh's Chocolates – Locations in Sydney, Melbourne and Adelaide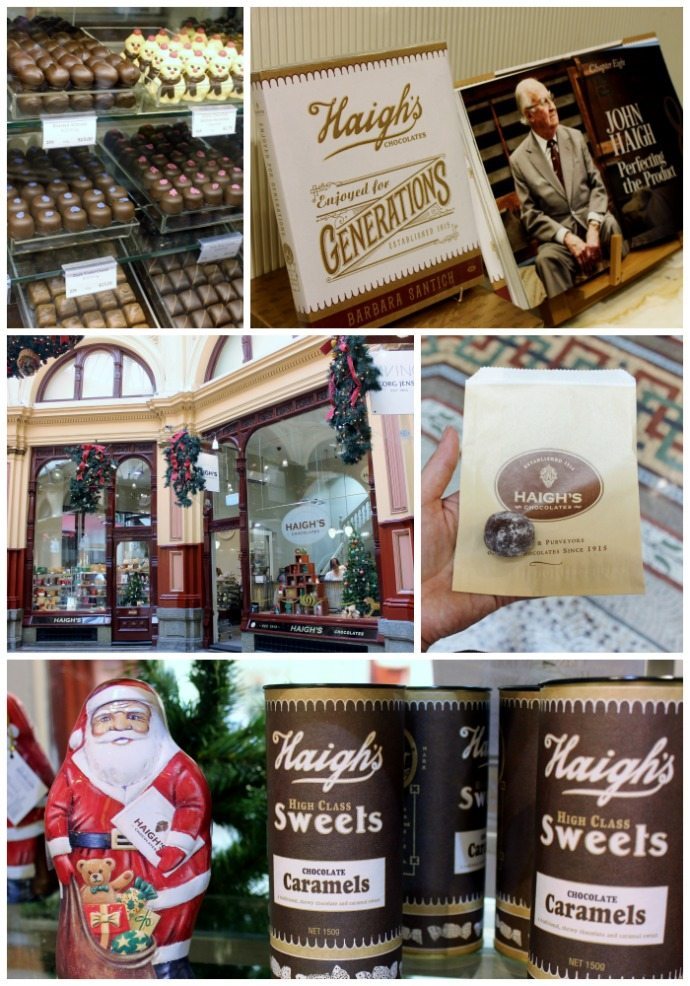 We sampled their milk chocolate, dark chocolate and a champagne truffles (and delicious they truly are). The shop is full of great chocolate gifts and treats and definitely a place to visit.
Our next stop was inside Royal Arcade. The home of Gog and Magog, statues that ring the clock bell, replicas of Gog and Magog in the Guildhall in London.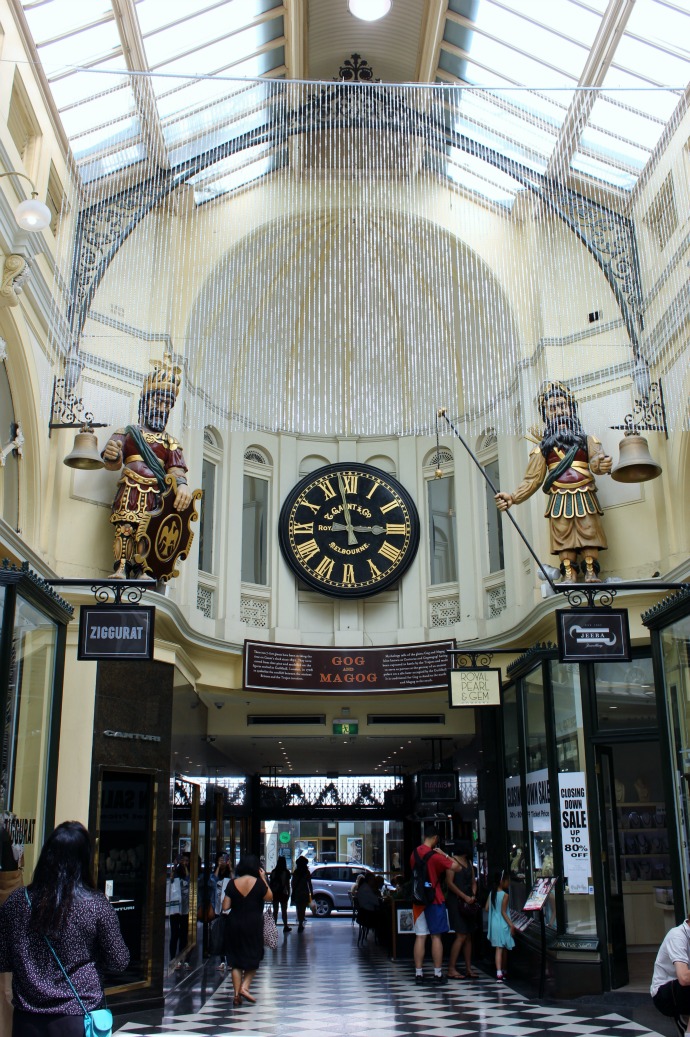 Koko Black – locations nationally
Also inside Royal Arcade is Koko Black. This is a store not to miss as you can watch the chocolatier at work tempering and making chocolates that are sold in the Koko Black stores. I've long been a fan of the Koko Black hot chocolates, as they melt high quality chocolate and mix it with milk, none of this chocolate syrup. We sampled raspberry truffles and had the chance to ask Vince the Koko Black chocolatier some questions about the chocolate making process.
As someone who has killed chocolate a number of times in the melting process when cooking, I wanted to know the best way of melting chocolate when that's called for in a recipe. Here is what he told us:
How to Melt Chocolate
Easiest way, melt in the microwave. Cut your chocolate up small (or use buttons) and then microwave for 30 seconds the first time only. Take out and stir, then continue microwaving for 10 seconds at a time, stirring in between, so you can make sure the chocolate doesn't get too hot. It shouldn't get over 30C, so the vessel that you're melting the chocolate in shouldn't feel hot to the touch (this is why it's best NOT to melt over a double boiler as I'd been doing in the past, plus getting any water in in the chocolate will make it go grainy and then you have to throw it out – what a waste of chocolate!). You will find this microwave method easy and you won't burn the chocolate if you take care and only do 10 second bursts of heat before stirring thoroughly.
Koko Black sells divine chocolates and is also a great little cafe to duck into for that tea, coffee or of course hot chocolate giving you a break to relax on your shopping expedition.
Our next stop was inside the new Emporium Melbourne and the New York Chocolate Bar
New York Chocolate Bar – Emporium Melbourne
This is more than a chocolate shop, but also a place that serves High Tea, breakfast and lunch. Not only did we sample the chocolates, but also the locally made Red Velvet Brownies (scrumptious). This is their first locationin Australia.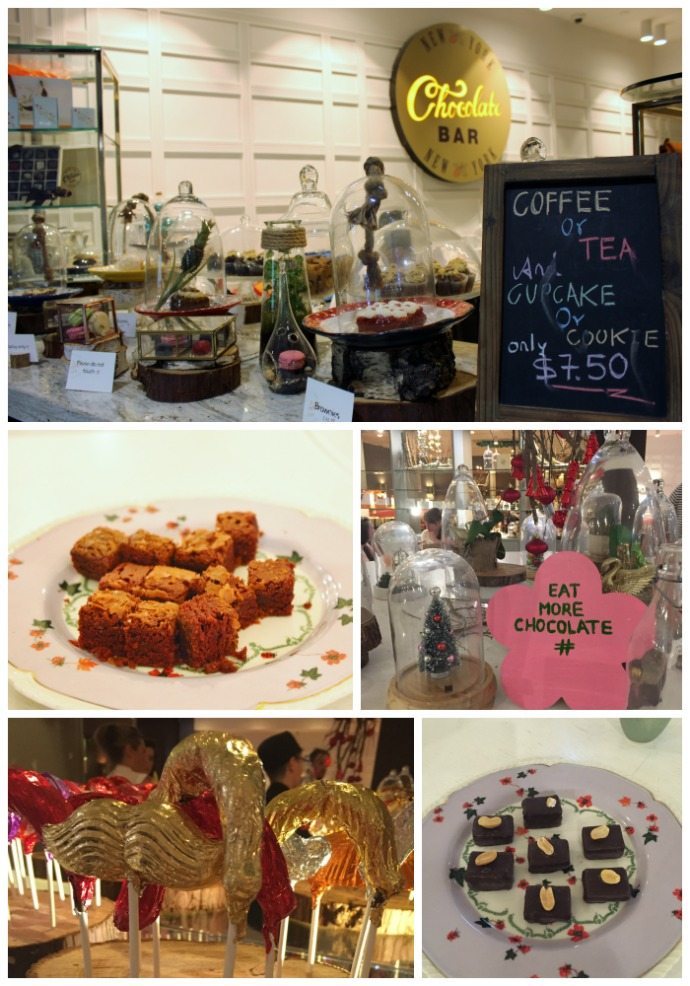 Kit Kat Studio – Melbourne Central
And finally, after almost 2 hours, we ended up at the Kit Kat Studio pop up store in Melbourne Central where you can create your own flavour of Kit Kat from 17 premium ingredients made and boxed, with your name (or if a gift, the recipient's name) on the lid. We sampled a variety of possiblities, from green tea, to ginger and orange. Just visit the store and choose your flavours on the ipads and your chocolate will be made as you wait. The store is only open til 17th January 2016.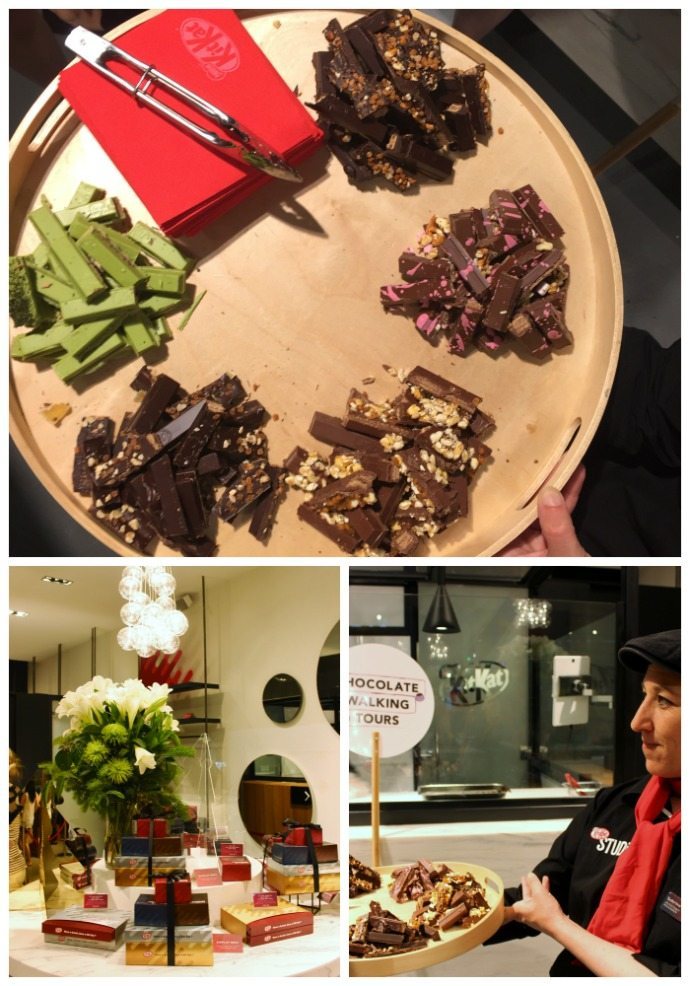 If you come to Melbourne and love chocolate (or live here as I have for many years) then taking a chocolate walking tour is a great way to spend an hour or two and enjoy your favourite sweet treat. I really had eaten enough chocolate by the end of it (and even snared some samples to bring home to share).
There are daytime and twilight tours available – for full details check out the Chocolate Walking Tour website. And all of the retailers we visited offered a special discount if you wanted to purchase chocolate on the day!
SPECIAL OFFER
Chocolate walking Tours has a special offer valid until 31 December 2016 – Buy 3 places on a tour and get one free – so you can bring the whole family!
City Sightseeing Chocolate Tour – use promo code CITYSIGHTS
Twilight Tour Chocolate Tour – use promo code TWILIGHT
Tours start from $39 per person.