Hi Imogen, I wondered if you can give me some tips for smartening up leisure/gym wear. I often go to a yoga class or swimming straight from dropping kids at school and then go grocery shopping on way home. I don't want to fall back into the tracky pants and polar fleece routine this winter. My colouring is enigmatic and I think I'm a slightly short-legged H shape. Thanks so much!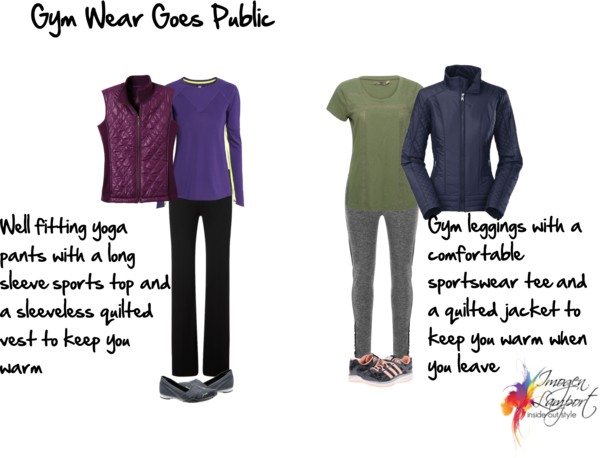 For many people, exercise wear is the last thing they invest in, and then when they do have some they wear it til it's stretched out of shape, saggy and baggy. If you're going to be going out in public before or after exercising, think about finding gym wear that fits and flatters you, that you're happy to be seen in.
Well fitting leggings or yoga pants are a must, instead of daggy old tracky dacks (that's Australian for pants).
Polar fleece can start looking tired and pilled quickly. If it's winter, why not think about either a sleeveless or sleeved puffa/quilted jacket or vest to keep your body warm. Uniqlo is an excellent source for these and they come in many colours!
Are your sports shoes past it? If you're going yoga you don't wear shoes, so you can find an alternative to a chunky sneaker, instead look for a more delicate but still comfortable slip on that blends with your gym pants.
Sportswear is often kept way after its used by date so looks unattractive. Make sure you update it when it's looking tired.
And if you've been to the pool and showered, then I'd suggest getting dressed into your everyday clothes rather than sporting clothes, like a pair of jeans!
Further reading:
How to Choose Active Wear Tops with Colour Blocking for Your Body Shape
Sportswear that Isn't Black and is Stylish, Mission Impossible?