And How to Select Them For Your Personality
If you're feeling that your wardrobe is a little bland and boring, it can be because you've settled for the more boring version of the basics.
We're told we all need a classic white shirt, a classic tee and a blazer to be well dressed. It's the kind of old-fashioned wardrobe advice I learned when I started as an image consultant at the turn of the century.
What I've learned is that this is not necessarily so. Unless your personality is very classic naturally (think super organised, responsible, conservative and ordered) who enjoy wearing the more simple and classic garments, you may find that plain classic is just too boring for your style and you feel like there is something missing from your style.
So rather than throw out the thought of the white shirt, the tee and the blazer in as valid garments in your wardrobe. Why not think about going for a version that fits with your personal style, that has some detail that takes it away from being "boring" for you.
The Classic White Shirt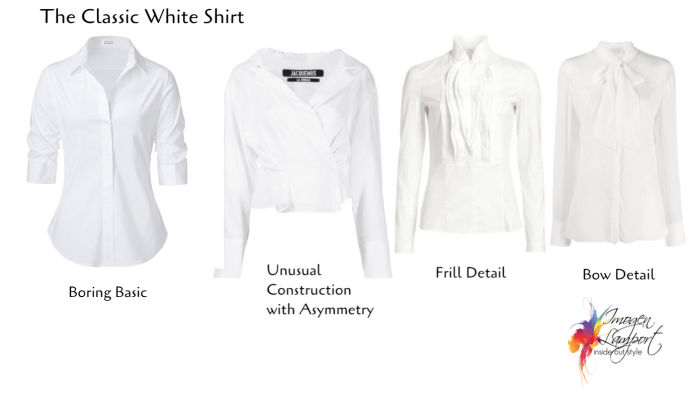 In each of these examples, you'll see the more standard plain version of the garment, and then some more interesting versions.
Unusual construction with asymmetry – this will appeal more to those who have a more creative personality and want a more quirky or slightly different version of the classic white shirt.
Frill detail – here this example has a double-layered structured frill that may appeal to those who enjoy a more elegant chic style.
Pussy Bow detail – the classic pussy bow in a soft fabric blouse suits those who like a more feminine style of shirt.
The Classic Tee
In the days of James Dean, the plain tee was a sign of rebellion, as it was underwear worn as outwear. These days, it's a wardrobe staple for many and has evolved from rebellious to boring.
We all need a few tees in our wardrobe, they are great with a pair of jeans, can be dressed up and down with skirts and are a staple in so many wardrobes, yet again, you can go for the completely plain variety, or one that has an element of something more.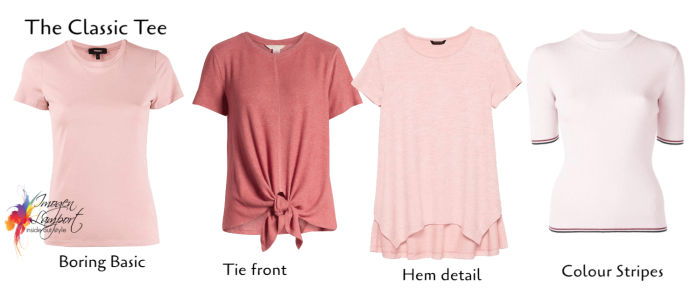 Tie Front – here is an option that is still relaxed and easy-going and relaxed, but has that small element of detail that will hide a muffin top and make your tee not quite so plain.
Hem detail – this asymmetric hem is a detail that will suit a creative personality who is after a little something different.
Colour Stripe Edging– a couple of stripes makes the boring tee into a classic staple, it's dressier and more refined than the completely plain version.
The Classic Black (or Dark Neutral) Blazer
Whether you want to dress your jeans up with a blazer or wear it to work as part of a suit or suit separates, a blazer is a great item to own as it can be a truly versatile garment that hides any lumps and bumps (it's the structured shape) and provides a professional air to any outfit.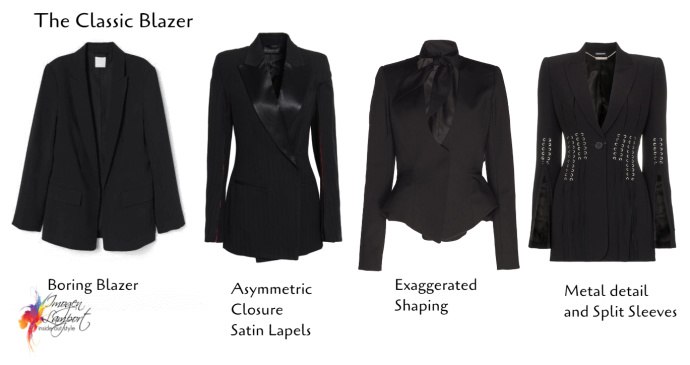 Asymmetric closure with satin lapels – the asymmetric closure is the first detail that takes this black blazer away from totally classic styling, and with the addition of the satin lapel the blazer is starting to look more related to a black-tie dinner suit, a truly elegant chic appeal with a touch of dramatic flair.
Exaggerated Waist Shaping – Blazers are a more masculine garment (they were originally made for men before being adapted to women's shapes) and so can be a little straight up and down and boxy, which is why when you add-in an obvious waist shaping to the blazer you turn it into a much more feminine garment.
Metal detail with Split Sleeves – Here is a much more rebellious version of the classic black blazer. Metal detail gives it an edgy and lightly "bondage" feel, so the opposite of classic conservatism, and then the split sleeve gives it another element of flair and drama.
What's Your Flavour of Non-Boring Basics?
You can see from these examples that there are many ways of adding detail and interest to your classic basics that can reflect parts of your personality dressing style.
If you're not sure what kind of details you're after or want to know lots about how your personality influences your style, and what kinds of details you should be looking for, you can get this as part of my 7 Steps to Style program.
These examples are just a very few samples of how you can tweak any garment to reflect your personality style.
What kinds of details do you enjoy having in your clothes to make them less-dull?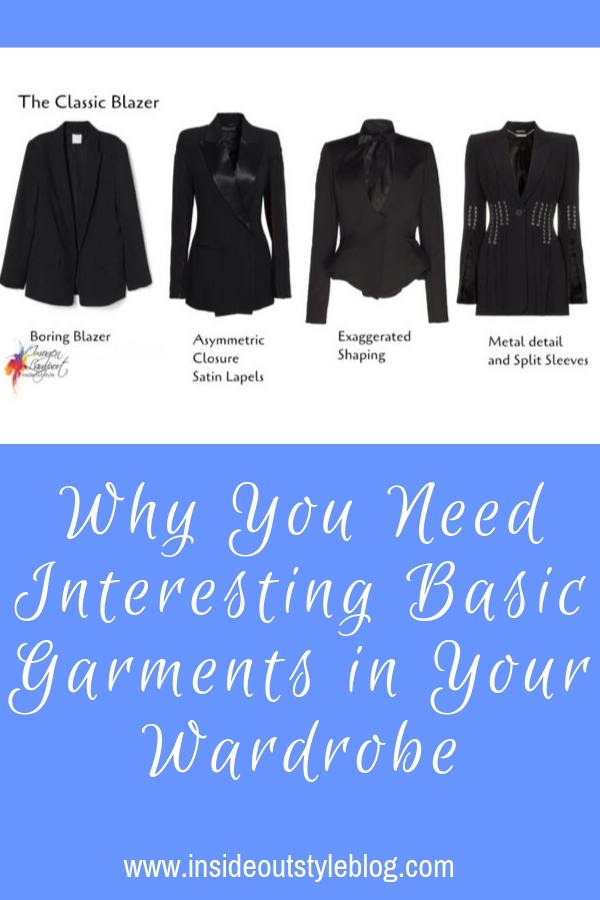 More Tips on Classic Dressing
Style Rules for Building a Wardrobe of Classic Staples When You Have a Light Ideal Value