A short neck is one that is less than one of your own hand widths wide (check out this post). Sometimes a wider neck (we assume proportionally you are around 3 necks wide, from shoulder to shoulder) can also look shorter.
If you have a shorter neck and find that you are stumped at how to wear accessories without making it look more obvious, or really short, how do you flatter it but still get to wear fab accessories? T
My Top Tips for Choosing Accessories to Flatter a Wide or Short Neck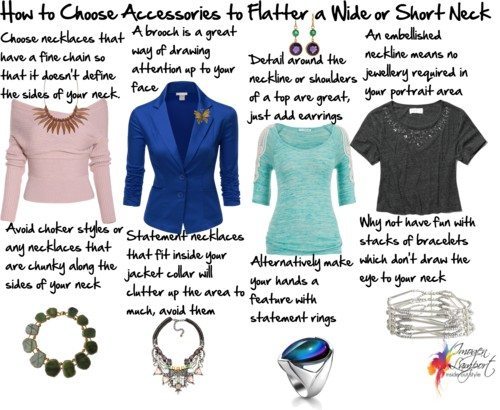 As you're aware, lower necklines are the way to go. They create space through your decolletage area and therefore the appearance of more neck. Avoid buttoning shirts up high, high closing jackets or any sort of high neckline if possible.
Then consider my fail safe recommendations for accessories.
1. Look for longer necklaces rather than short ones, that are on a fine chain around the sides of your neck. They can be more chunky below, but you don't want to define the sides of your neck.
2. Be aware of how much space you have to play with. When wearing a jacket opt for a brooch rather than necklace as you don't want to overfill the space as it makes the whole area look cluttered.
3. Detail on the shoulders of tops can behave like jewellery. Have fun with earrings that are slim and dangle, but avoid anything that goes past your chin as it will emphasise the length of your neck. Consider statement rings as an alternative to necklaces.
4. Embellishment around the neckline of a top is great as it means you don't need any accessories in the portrait area at all. Do think about other accessories though, such as bracelets and bangles to add a little pizzaz to your outfit.