Today my stylish thoughts contributor is Carroll Gardens Brooklyn, New York based Plus size designer Lisa Dolan of Lee Lee's Valise and star of the Foxtel TV show Big Brooklyn Style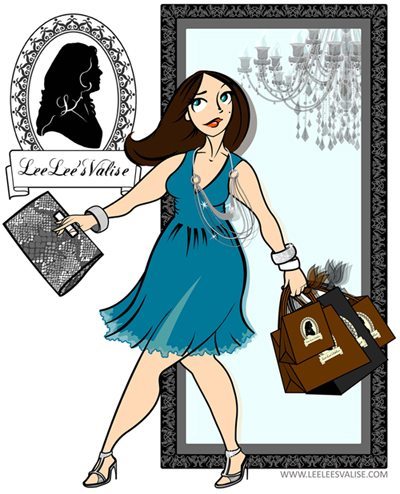 What is the secret to great style?
The secret is mixing classic looks that flatter your body with a dash of runway glamour! Bold prints and vibrant colors are also a must as well as shape and definition. Wearing clothing that makes you smile gives off an air of confidence and people will take notice. That's my secret!
How do you balance new trends with a more timeless look?
It's the use of fabrics, colors and textures that are on trend in classic bodies! This will blend trendy and timeless in a way that will have all the other girls admiring you. Last Spring I used the color coral that was all over the runways. I put it in a contemporary lace in one of my classic bodies. It was the perfect marriage of trendy and timeless.
What is the one thing you would spend a lot of money on?
Foundations, Foundations, Foundations! A good bra is your best friend and will always support you no matter what you get yourself mixed up in! The proper foundation garments will add "perspective" to your look and put everything where it should go! You must have a bra that fits properly so that your clothes fit the way they were meant to fit. Fit models wear foundations and so should you! Give the girls a lift….and you will appear to have lost ten pounds!
What is your current obsession?
It's all about the Cowl Neck for me right now! I created the perfect cowl neck dress and top for plus size. It will fit any size bust and be complimentary but not revealing. I didn't want my customers to have to layer under it so the cowl neck falls right at the top of the cleavage leaving it all to the imagination. As always, my signature fit makes allowance for the hips and belly.
What's the secret to looking polished?
Put some thought into what you are wearing. Have fun and play with pieces in your wardrobe to complete a look. Being prepared takes the guess work out of the process. The key is to avoid last minute choices. You'll never look like you just threw something on…even if you did!
Lee Lee's Valise – NYC's Unique, Fashion-Forward Clothing Catering to Plus-Size Women Sizes 10-28. You'll find one-of-a-kind items that aren't available anywhere else!
Check out Lisa Dolan from Lee Lee's Valise on Big Brooklyn Style currently running on Foxtel's LifeStyle You every Friday night at 8:30pm.
We will be LIVE TWEETING this Friday at 8:30pm Please follow @BigBklynStyle and @LeeLeesValise on Twitter!