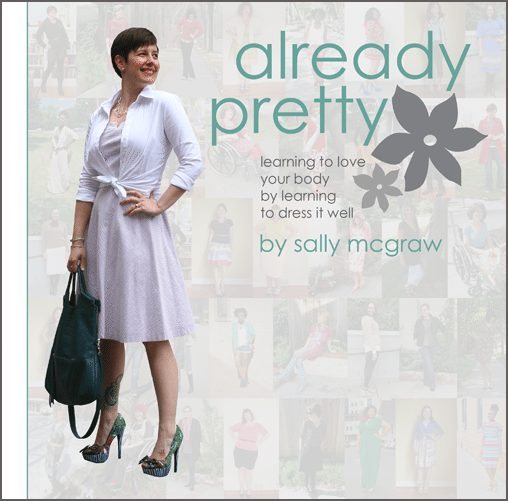 Last night I finished reading Sally McGraw's book Already Pretty: Learning to Love Your Body by Learning to Dress it Well
.
Sally you may know from her blog Already Pretty and this style guide is based on her philosophy of loving your body and dressing it with respect in a way that makes you happy.
I love Sally's body image platform and Already Pretty the book is an extension of what you get on her blog. She focuses mainly in the book on finding your personal style and why it's so important to celebrate your unique beauty in a way that is not about sets of strict rules, but an expression of your authentic self.
Sally defines style as: "an aesthetic evolution, an engaging, ongoing process of exploration and discovery." She goes on to say that it can be an effective tool for cultivating a healthy and positive body image. This is so true, and something I know that many of my clients express to me as I work with them, not against them as I don't try and fit them to the current fashion, but use the current fashions to make them look fabulous.
Already Pretty takes you through a comprehensive series of steps to help you discover your personal style, and also gives you a load of tips on how to flatter your unique body and sorting your wardrobe so that it only includes what makes you truly happy.
If you're in need of a body image boost this is a great book to read. The process Sally takes you through is very thorough, and is the kind of process that will appear to those who love some introspection and have the time and the energy to work with it. It's not a 'quick fix' book and if you're the type who just wants to be told what to wear, it's not for you. But if you want to take a journey deep into your style psyche then you will discover much of the how and why of your personality style and what suits you.
You can grab your copy of Already Pretty
on Amazon on either Kindle for $7.99 or Paperback for $12.49.