I don't belt often as I'm an H shape and have a short waist with large bust, so belting at the waist draws attention to my boxy shape and makes my breasts look larger. But occasionally I do like the addition of a belt as it adds a detail to my outfit to make it more interesting.
Adding a belt can give a little more interest and detail to an outfit. Belts are great for those with defined waists (8s, As and Xs), they create a waist on the slim I shapes, but are harder to wear by those with undefined waists (Hs, Vs and Os).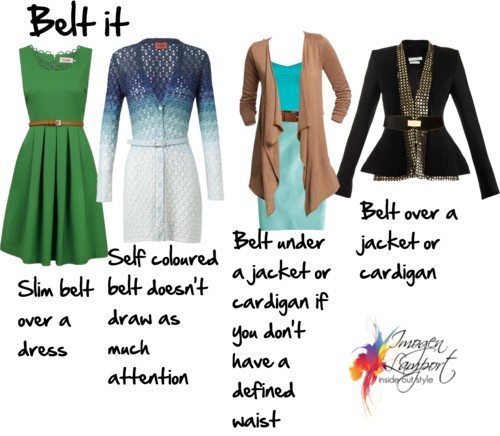 You can belt over a dress, cardigan or jacket.
A self-coloured belt will draw less attention to your waist than a contrasting belt.
Belting under your jacket or cardigan will create the illusion of a waist for those who lack them.
A hip belt works better for Hs and Vs than a waist belt.
Hs, Os and Vs can also all belt to the back (tie a belt on a trench or cardigan to the back rather than the front of the garment.
Belt at your empire point rather than your waist or hip also can work for Os and Hs.
Here is a round up of some of my posts on belts:
How to belt when you don't have a waist
Matching belts, bags and shoes?
And see how a simple belt can add that little difference to an otherwise plain outfit as Nicole Avery of Planning with Kids experimented with accessories.
Don't forget to share your FABruary style challenge looks by using the hashtag #Fabstyle on twitter, instagram, pinterest etc. and linking to my social media accounts with @imogenlamport or posting to my facebook wall www.facebook.com/bespokeimage, alternatively you can always leave a comment here with a link to your blog or pic!