I received this request from Rock the Silver about what to wear to look smart, but still be casual and comfortable in a hot environment like Texas, where she lives.
I live in a hot climate (Texas) and am looking for casual day time outfits that are a step up from running shorts and t-shirts. We need some ideas for hot days with maybe a sweater or something thrown in for places with air conditioning. I was inspired to write because I posted a picture of what I thought was a cute casual outfit and my readers hated it! I knew baggy was bad in professional clothes, but I really thought it was OK for weekends. My readers disagree.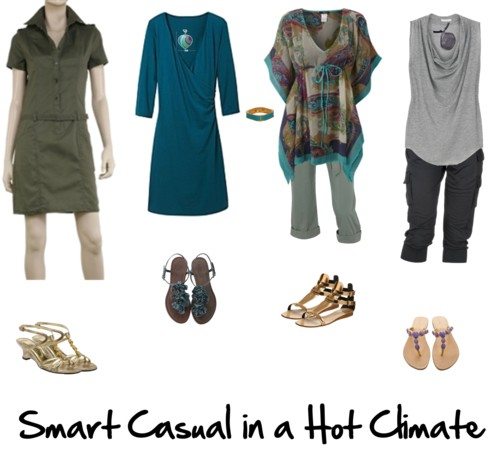 I don't live in Texas, but Melbourne Australia get's pretty hot in the summer (into the 40s Celcius) so I understand what it's like.
Here are Some Ways to Dress Smart Casual in a Hot Climate
Now, Rock the Silver was looking at clothing that's a 'step up from sweats' but I think that we can all do a bit better than that, without any extra effort.
What I prefer to wear in hot weather is dresses, made from cotton, or cotton jersey, they are a great wardrobe staple for a hot climate, no nasty waistband to dig in and add extra heat to your body.
Teamed with a pair of flat sandals, embellished or plain, but not clunky, you will quickly look stylish whilst keeping our cool and not looking over dressed.
Stay away from Nanna shoes or sandals when you're rocking the silver.
Some long shorts slim shorts or cropped pants can be worn with a caftan or fitted jersey knit, again don't forget accessories, a bracelet, necklace and some cute sandals will make a plain outfit smart.
What do you find looks great in hot weather but doesn't make you overheat?
Further Reading: