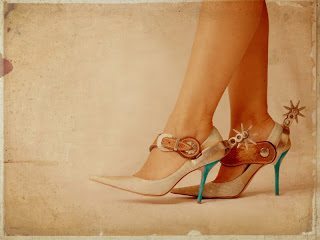 On Wednesday I was in the car listening to ABC Radio National's Life Matters program and the topic was bad shoes and the women who wear them, and again on Friday the program covered why women wear heels and what it does to our feet. Given that every podiatrist in the world would tell you that wearing high heels is bad, bad, bad for your feet, but we women continue to wear them anyway. Given that heels tend to be way more uncomfortable than flat shoes (unless of course we've been wearing heels so long like a friend of mine, she now finds bare feet uncomfortable as she's shortened her Achilles tendons from wearing heels all the time) so why do we persist?
Petite women I've talked to like to wear heels as they make them taller. I like wearing heels for the same reason, it brings my eyeline closer to that of the man I may be speaking with, giving me a more equal footing. Does being taller give women more power?
I asked a couple of males why they liked seeing women in heels, and of course for the both of them it came down to an attractiveness, sexual reason.
"It's harder to define what makes heels attractive – far more difficult than I expected. But they can certainly turn ordinary legs into legs worth looking at.Perhaps heels belong in the same category as push-up bras and make-up – tools to enhance and draw focus. I don't think they're 100% for walking in, and maybe there's the part of the brain that imagines those heels pointing at the ceiling fan?"
Or as another put it "The stiletto is a masterpiece of engineering and art; it should be considered one of mankind's triumphs." (The rest of the ode to the stiletto by this guy is actually unprintable).
The reality is that most heels hurt our feet, give us bunions and can do all sorts of other damage to our feet, knowing this we continue to wear them. Why do we do this to ourselves?
Lots of us love the leg elongating effect of heels, others the height, there is often an elegance in the heel that is not seen in flatter shoes. Also heels make our feet look shorter and more 'feminine' and dainty.
Interestingly when I asked the same men about platforms, they both said that they didn't like them and they look stupid. Is that because they are less delicate than a stiletto heel? Or because we often see images in the media of women falling off extreme platforms, a la Naomi Campbell for VivienneWestwood

I classify my shoes into all day, 3 hour and 'sitting only' shoes. All day shoes are flat, 3 hour shoes have a heel up to about 2 1/2 inches, they can be worn for more than 3 hours as long as there is no more than a 200m walk in that time and most of that time is spent sitting. Sitting shoes are the really high ones that are OK to wear to walk in somewhere, maybe stand around for up to half and hour, then sit down for the rest of the time they're being worn.
Do you feel that heels give you more power? Why do you choose to wear them?