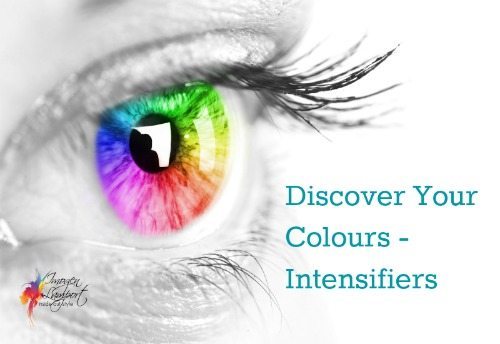 Reader Fins asked: To my question: I have grey streaks in what used to be very dark brown hair, and I have noticed that the hair looks more grey when I wear the greyer end of colours such as mauve or cocoa, whereas with mid-intensity blues or with aquas or dark charcoal my hair looks darker. I think all of those colours bring out my skin/eye colour and contrast. For best results, should a person hold off on wearing the greyer shades until they're very grey themselves? I think I need to go back and study the contrast and complementary business!
The answer – colours that are complementary will intensify the colour they are next to, which is why in yesterdays post on intensity in the picture of simultaneous contrast, the orange dot looked brightest next to the blue. Orange and blue are complementary on the colour wheel.
So if you want to make a colour look more intense put it's complementary colour on.
Brown hair wear your blues
Blonde hair – wear your purples
Red hair – wear your greens
Blue eyes – wear your oranges (warm) or reds/pinks (cool)
Green eyes – wear reds and burgundy and red/violets
Brown eyes – wear blue
These tips for intensifying eyes can be used for eyeshadow colour selection.
So what do you do if you don't want to intensify a colour – say you have a ruddy complexion? You may find that some teals can heighten your colouring, as will more similar colour reds and pinks.
You can also enhance a colour by wearing the same colour close by – blue eyes look bluer in a blue top. Brown hair looks browner wearing brown, and grey hair will be more noticeable when wearing grey.
Here are some more posts