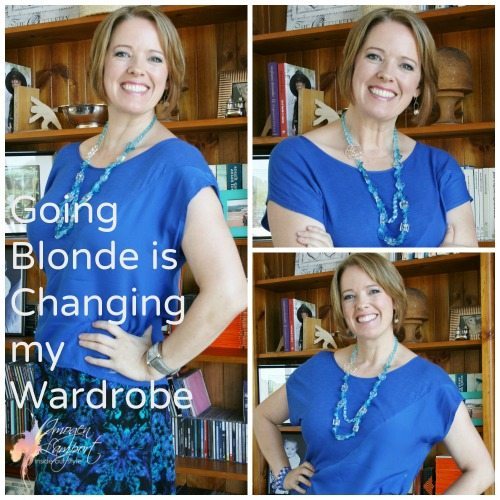 Since I've been blonde now for all of the better part of 3 weeks. Here are a few of the things I've noticed about how my new hair colour is changing the way I dress.
My Makeup
My lipstick is getting lighter. I've found when I put on my darker lip or really bright lip colours, they are wearing me, rather than me being the focus.
If I want to wear my darker colours, I have to wear darker eyeshadow colours and a medium lip colour to create more contrast on my face.
My Clothing
I've discovered that most of my wardrobe is too dark and the colours too intense! I hadn't realised how dark it all was until I went blonde, and now I can see that the majority of it is dark. You will see in the pic above that the black in the skirt above looks heavy and dark as compared to the rest of me.
I'm finding that I want to wear all the (few) lighter coloured clothes in my wardrobe as they look more harmonious with my new hair!
This is why white is my new black!
My Shoes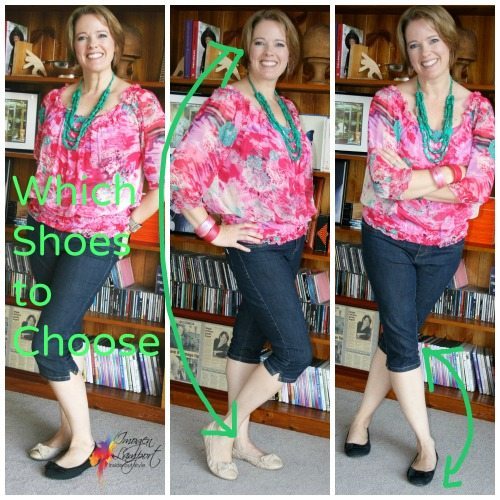 Now I look better when wearing skirts and dresses to wear a lighter coloured shoe rather than dark one (unless the colour of my skirt or capri pant is darker.) You may remember from my posts on Visual Grouping and another here (ways to use visual grouping) I talked about shoe and hair colour working well together.
You will notice in the pics above that the black shoes dominate the outfit and don't really relate that well to anything else in it – they are passable because of the dark denim, but they draw attention to themselves, whilst the light shoes don't draw attention.
So I'm playing in my wardrobe, trying to work out ways to make my existing clothing work with my new hair! I will share more as I discover – and do ask your questions about this process too in the comments!
Read part 4 of my journey from deep brunette to blonde.