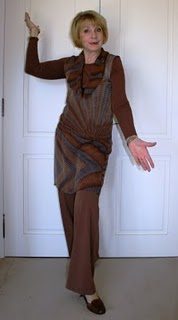 O
ne of the comments received on the
recent post about my lovely friend Jan
was from Kelly,
Kel
ly
said…
Jan looks fabulous, and she is a real inspiration to me…having just turned 51, I am struggling lately with what's appropriate for my age…I don't want to look too young nor too dowdy!
Questions for Jan: She has a fabulous figure, does she have to work hard at it (diet and exercise) any tips on that for we 50 plus gals? I think that's part of my problem, having gained some menopausal weight of about 20 lbs over the past few years my body feels really out of sync with how it's put together now, and I am just wondering how other 50/60 plus ladies manage?!
Jan's reply:
As weget older staying slim and supple requires some effort from us.
Dedicateat least half an hour a day to at least go for a walk and do some stretches. Iknow it is an effort for some of us,but it does make a difference. I havealso made a promise to myself to go back to pilates. I have found that is great for both posture and building and strengthening stomach muscles, and particularly lengthening the middle body section where a lot of woman carry weight as they get older .
Curtailing the amount you drink is another factor, having some alcohol free nights is great not only for your figure but also so for your skin .
The last piece of advice that Ireally follow for myself is reducing meal portions and trying not to snack between meals. The meal Ihave really reduced in size is my dinner meal and that has made a big difference to my weight. As we age our metabolism slows down and we do not need the amount of food we did when we were younger. Try it and see for yourself.
So what are your tips for keeping your weight under control?