I was recently having a conversation with a bespoke tailor friend and colleague, and she mentioned that she has a friend with scoliosis who has difficulty buying clothes that camouflage her scapula, which sticks out her back at an odd angle. My friend mentioned she'd done some web searching and could find nothing on how to dress a body that has any sort of asymmetry such as scoliosis. So I gave her these tips and I thought they may be of interest to some of you too.
How to Distract from Asymmetrical Facial or Body Features
If you have asymmetrical facial features, such as a broken nose or one that is bent to one side, or one eye significantly higher or different from the other. Or other asymmetry in your body caused by such things as scoliosis, if you wish to distract from this, look for asymmetry in your clothing design.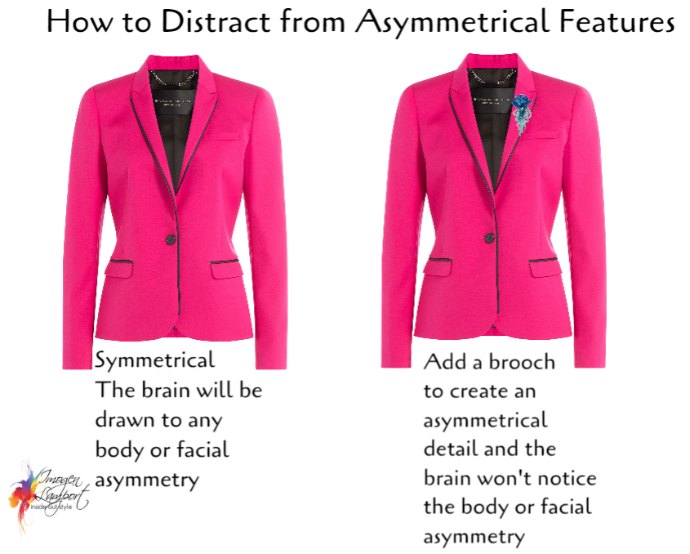 Think about how the eye will divide the body in half simply and easily when the clothing you wear makes this easy – such as a button up shirt or a blazer. If you have one shoulder higher than the other or other body asymmetry or some facial asymmetry, then think about looking for garments that also include asymmetry in their design or add it in (see example above) where none exists.
In my examples above:
Top left – diagonal wrap
Top middle – embellishment and detail on one side only
Top right – a feature brooch on one lapel that creates asymmetry in a symmetrical garment
Bottom left – bow on one side
Bottom right – asymmetrical construction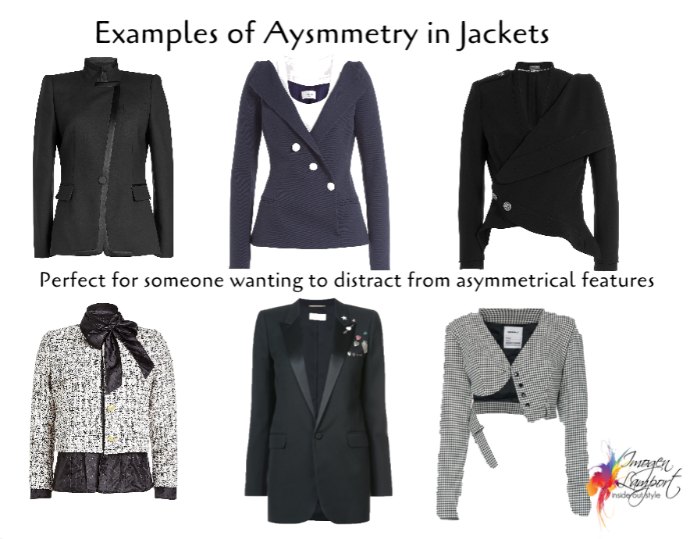 Look for asymmetrical hemlines or other detail on only one side of clothes to distract from your natural asymmetry and create more harmony. Above you'll see a range of different ways asymmetry is used in jackets and some of the details you may think about looking for when purchasing your next wardrobe item.