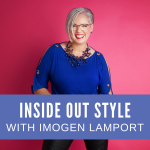 In this Episode
0.06 Column of Colour tips when you look better in an inner dark column but have a medium high value contrast and don't want to wear a light topper as it's not the right ideal value – any ideas?
3. 37 I love Shabby Chic style – yet the light colours and low contrast that are typical of this style don't work with my dark ideal value (hair) and high-value contrast – suggestions?
8.01 How do I know how long a necklace to wear with a large bust?
Column of Colour
5 Simple Steps to Choosing a Patterned Garment in a Column of Colour
How to Get the Right Contrasts and Value with an Inner Column of Colour
Ideal Value
What's Your Ideal Value and How it Creates Balance in Outfits
Style Rules for Building a Wardrobe of Classic Staples When You Have a Light Ideal Value
Necklaces Choice with a Large Bust
Subscribe to my Podcast
You can now get these videos as podcasts subscribe and never miss an episode
Send me Your Questions
Please email me your questions to be included in my Q&A Lucky Dip!