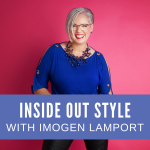 In this Episode
0.08 How to dress for a barrel chest when the advice for an X shape is to wear fitted tops?
1.31 How to start developing your style when you have none!
10.09 Wardrobe capsules seem restrictive – why are they the 'way to go'?
X Shape Tips
What Guidelines to Follow When Your Body Shape isn't "Standard"
How to Develop Your Style
Wardrobe Capsules
Wardrobe Capsules, Outfit Formulas and Uniforms – Which is Right for You?
Before You Throw It All Out for a Minimalist Wardrobe Read This
Subscribe to my Podcast
You can now get these videos as podcasts subscribe and never miss an episode
Send Me Your Colour and Style Questions
Please do email me your colour and style questions to answer on upcoming videos!