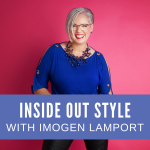 In This Episode:
0.10 How to build a wardrobe of clothes that work for the weather and occasion when I tend to wear my workout clothes casually and I can'[t seem to get out of the trap of wearing 20% of my wardrobe 80% of the time?
7.34 What are home cleaning appropriate clothes that are stylish?
9.20 How to plan outfits for the week when the weather keeps changing and the outfits no longer work?
Wardrobe Building
6 Brilliant Strategies to Creating the Perfect Wardrobe Part 1
4 Simple Tips to Help You Build a Stylish Wardrobe of Clothes
Casual At Home Clothes
Planning Outfits
Subscribe to my Podcast
You can now get these videos as podcasts subscribe and never miss an episode
Send Me Your Colour and Style Questions
Please do email me your colour and style questions to answer on upcoming videos!