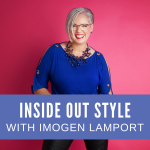 Your Questions Answered in this Episode
0.11 I've put on weight and my bust is large and low and I'm having trouble finding anything that is flattering – any tips?
4.57 I have deep warm colouring – what neutrals are best for my conservative work environment?
7.15 Why are there so few reds in my colour palette?
Foundation Garments and Figure Flattery
Finding Your Best Work Neutrals
How to Look Serious or Authoritative when You Have Light and Warm Colouring
Red – and Pink and Burgundy – all the Reds
Subscribe to my Podcast
You can now get these videos as podcasts subscribe and never miss an episode
Send Me Your Colour and Style Questions
Please do email me your colour and style questions to answer on upcoming videos!