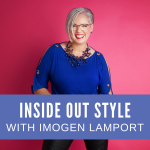 In this video
0.12 If I shave off my hair how will this change my value and colour contrasts?
3.43 H shape with a large bust – should I wear an inner or outer column of colour and should it be light, medium or dark?
8.13 Wardrobe help – I'm moving from a hotter to a colder climate, have lots of clothes – what should I keep and how do I figure out what to purge?
Shaving Head How Does it Change My Value and Contrasts?
How to Find Your Ultimate Colour Contrast – Your Three Step Process
H shape and a Large Bust – which sort of column of colour to disguise your tummy
Wardrobe Help – moving how do I sort out what to keep and what I need?
4 Simple Tips to Help You Build a Stylish Wardrobe of Clothes
Before You Throw It All Out for a Minimalist Wardrobe Read This
Subscribe to my Podcast
You can now get these videos as podcasts subscribe and never miss an episode
Send Me Your Colour and Style Questions
Please do email me your colour and style questions to answer on upcoming videos!