If I had to describe my personal style in 3 words it would be creative, dramatic, feminine. When I discovered my personal style preferences when I was undertaking my image consultant training (though it has developed and morphed some in the past few years), I finally understood why I can't wear sneakers if I'm not actually doing exercise at the time – I'm just not relaxed enough, and my dramatic and feminine sides find them too clumpy and unattractive.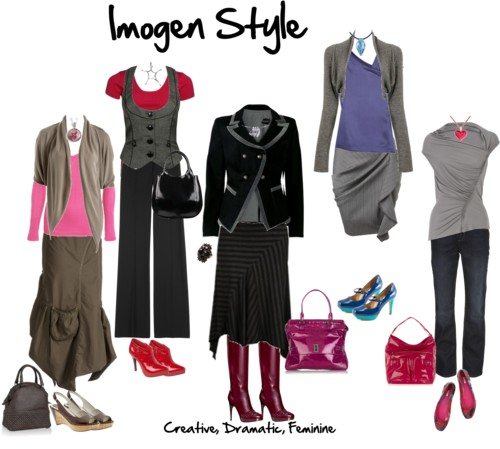 One of the things I'm most aware of when dressing each morning before meeting a client, is that I'm dressing to fit the perceived image of an image consultant, but also, I don't want to 'scare' the client by being too creative (or even too dramatic), as sometimes they might think that I will just try and force them to wear the clothes I like, not what suits them. So I dress to my personality, but depending on the information the client has sent me about themselves, I won't wear my more extremely creative pieces if I think they'll be misunderstood.
But if I'm meeting with someone from a more creative industry or other image consultants, I'll go all out and wear my most outrageous clothes.
I always include personality pieces in my jewellery, not matter how conservatively I'm otherwise dressed.
What has also been an interesting evolution in my style, is that I used to dress quite classically, but now I find my old classic clothes too boring and dull.
I'm busty, so I wear lower necklines and big necklaces (the scale of them diminishes the appearance of my bust) to draw attention to my face. I love colour so have lots of Murano glass pieces.
I'm short waisted and rectangular in body shape – so I never ever cinch my waist or draw attention to it with waist detail. I do however look for clothes that provide the illusion of me having a waist – for example, the black jacket has angled pockets which give me subtle waist shaping.
I have a flat butt, so I prefer skirts over trousers (which usually have saggy bums, except for the ones made by my tailor www.oscarandoscar.com.au which are brilliant).
I have longer legs, so can wear skirts from just below the knee to longer, though when they're calf length I always wear heels.
I love asymmetry and look for these details in my clothes.
I love handbags and change them daily depending on what I'm wearing.
I've had a couple of kids and the flesh on my stomach is not as firm as it once was, so I look for ruching detail to hide, or a waistcoat will also disguise.
So – is this what you were expecting me to wear?