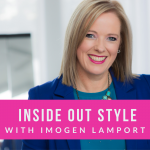 In this Episode
0.38 How can I wear black and white when I have grey hair and muted colouring?
6.40 How do I get a waist if belts make me look short waisted?
11.30 I'm having trouble figuring out my body shape – what tips have you got?
Wearing Black and White
Why Black May Not Be Your Best Friend- Busting the Black Myth
3 Simple Steps for Wearing Black When You Have Light Colouring
Short-Waisted How to Define Your Waist
How to Figure Out Your Body Shape
What Guidelines to Follow When Your Body Shape isn't "Standard"
Subscribe to my Podcast
You can now get these videos as podcasts subscribe and never miss an episode
Send Me Your Colour and Style Questions
Please do email me your colour and style questions to answer on upcoming videos!